Smoked food is one of life's many pleasures. No longer used for food preservation, smoking adds flavor while transforming bland meals to tender, juicy delicacies with optimal texture and taste. But, what if you could make smoking food even better? Fans of the Kamado Joe SlōRoller claim that you can. Ever pessimistic about new products, we decided to test them out for ourselves.
Initially distributed in 2019, the SloRoller has been continuously sold out due to high demand. We finally got our hands on one and went to town testing it out. Find out if this Kamado Joe insert is worth the hype with this Kamado Joe SloRoller review from our team of grilling and smoking experts.
Kamado Joe Grills 101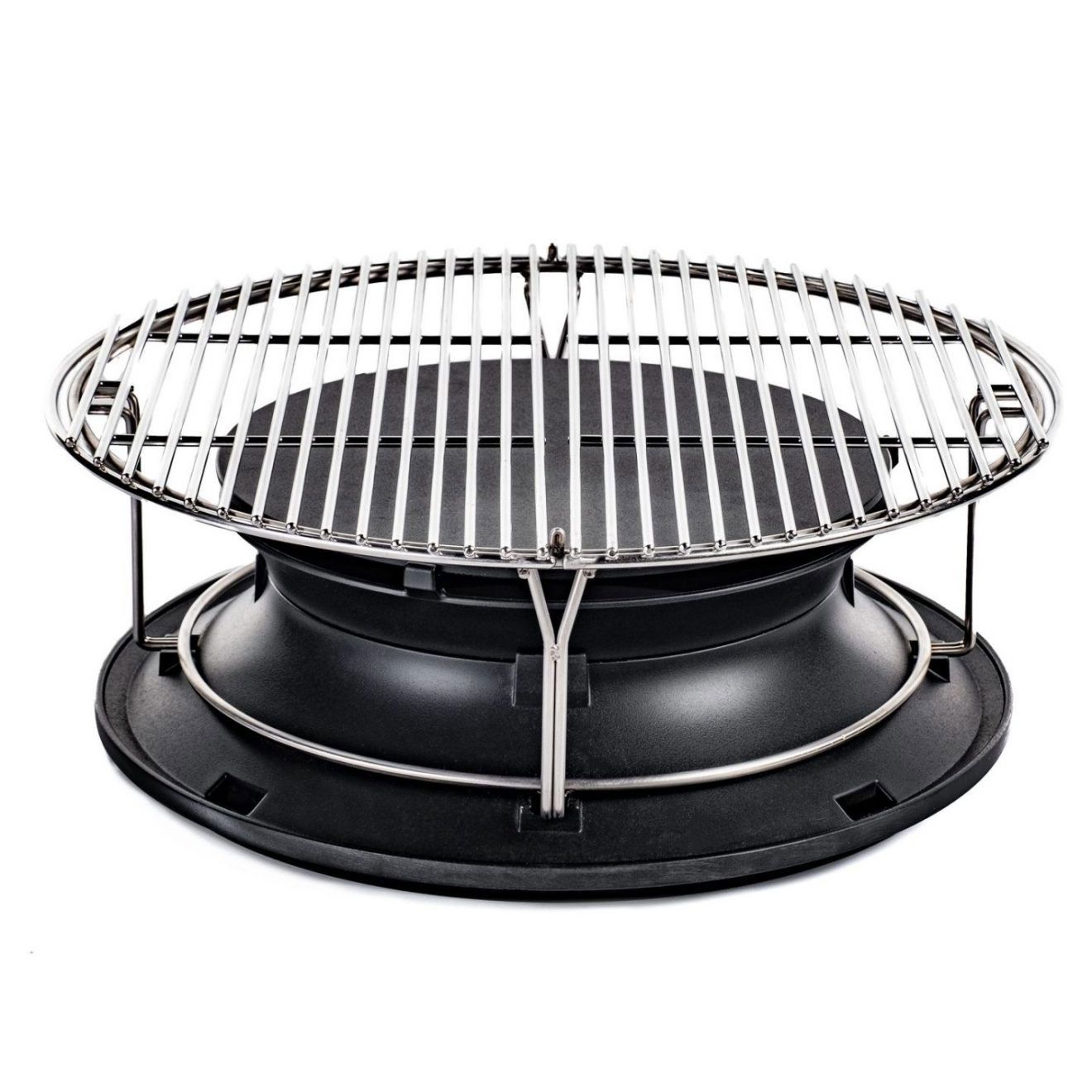 If you're new to Kamado grills, it's essential to learn about them to know what to expect before you buy one. Kamado grills are designed based on the ancient technique of cooking in a ceramic pot. Used internationally for thousands of years, a Kamado grill can cook everything from rice to whole chickens. Kamado Joe took advantage of this cooking method and added advanced technology to modernize the system with direct and indirect heat. From burgers to prime rib, the opportunities for grilling, smoking, and baking are endless with a Kamado Joe. Discover how a SloRoller can add to the experience.
What is the SloRoller Used For?
Have you ever spent an eternity waiting for your smokey weekend treat just to find the meat burned, flavorless, and chewy? Even worse, have you ever had smoked meat that instead tasted like burnt rubber? Unfortunately, we've experienced this disappointment more often than we'd like to admit.
That's why, when we read that Kamado Joe came out with the SloRoller and that it had a steady stream of positive reviews, we were so excited. Because the SloRoller distributes heat evenly while evenly spreading clouds of smoke throughout the Kamado grill's ceramic chamber, we knew we had to try it to see if it really works.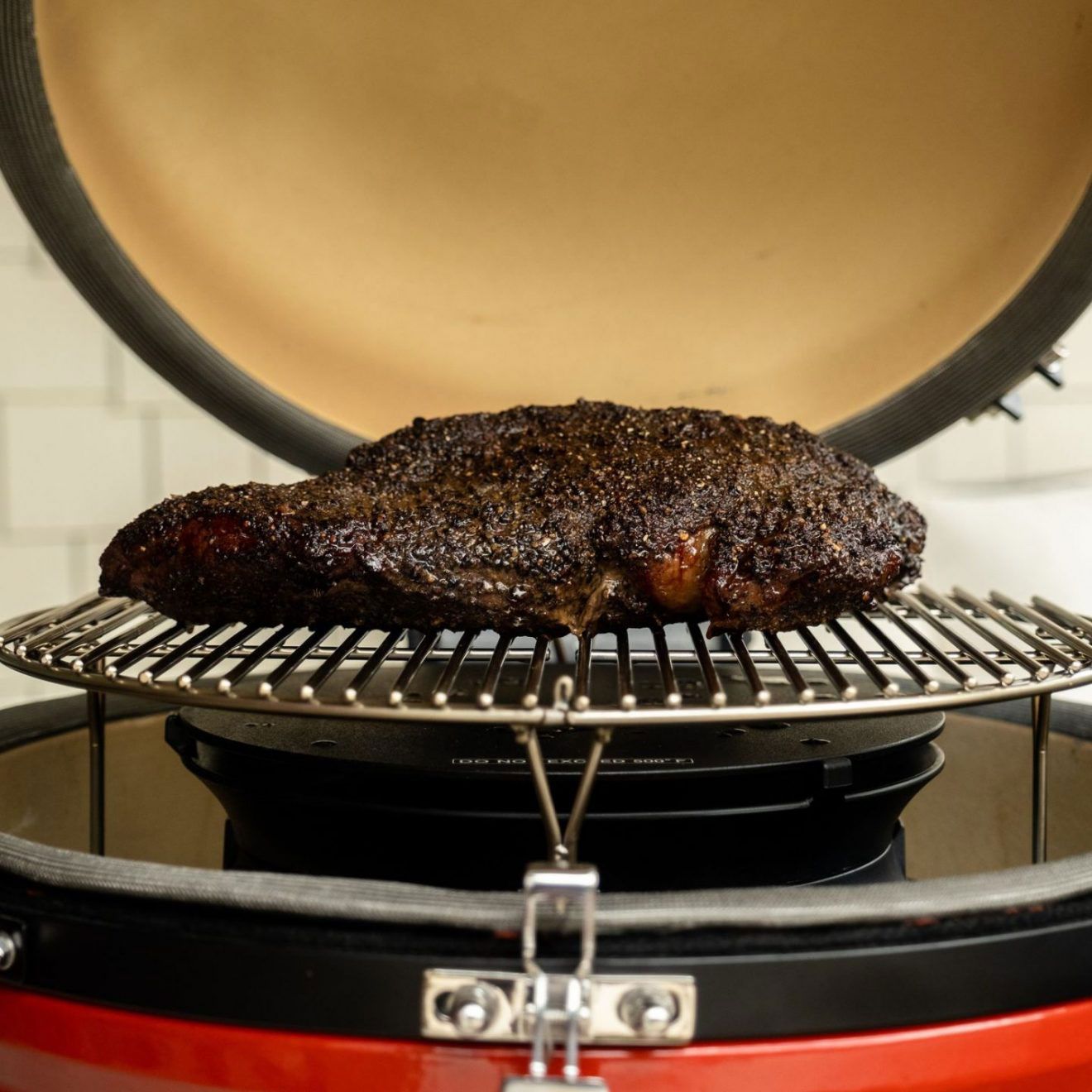 Not one to shy from innovation, Kamado Joe itself is a company worth noting. Constantly seeking out advanced cooking methods, they have regularly outdone themselves. And where else can you find cooking innovation if not from a group of students at Harvard? Kamado Joe partnered with these students to develop a way to produce the most efficient heat and smoke to penetrate the meat deeply. What they came up with would impress the most experienced product engineers.
SloRoller Quality
Upon first inspection, the SloRoller appears to be made very well, particularly when compared to other Kamado products on the market. The metal insert is smooth with a trendy matte finish and comes in separate pieces for ease of installation. The only downside was that it did not come with new grates for meat to rest on, but we had ours from the Kamado Joe to utilize instead. It came packaged with loads of protection to ensure safe shipment from the warehouse to our front door.
How Does the SloRoller Smoke
When designing the SloRoller, students attempted to move the smoke around the food to trap the flavor. Similar to the name, they aimed to roll the smoke slowly. By designing a system that creates a ring of smoke, the students successfully achieved their goals. Where the smoke moves toward the top, much like a chimney, it repeatedly passes your food on its way out to ensure consistency in flavor.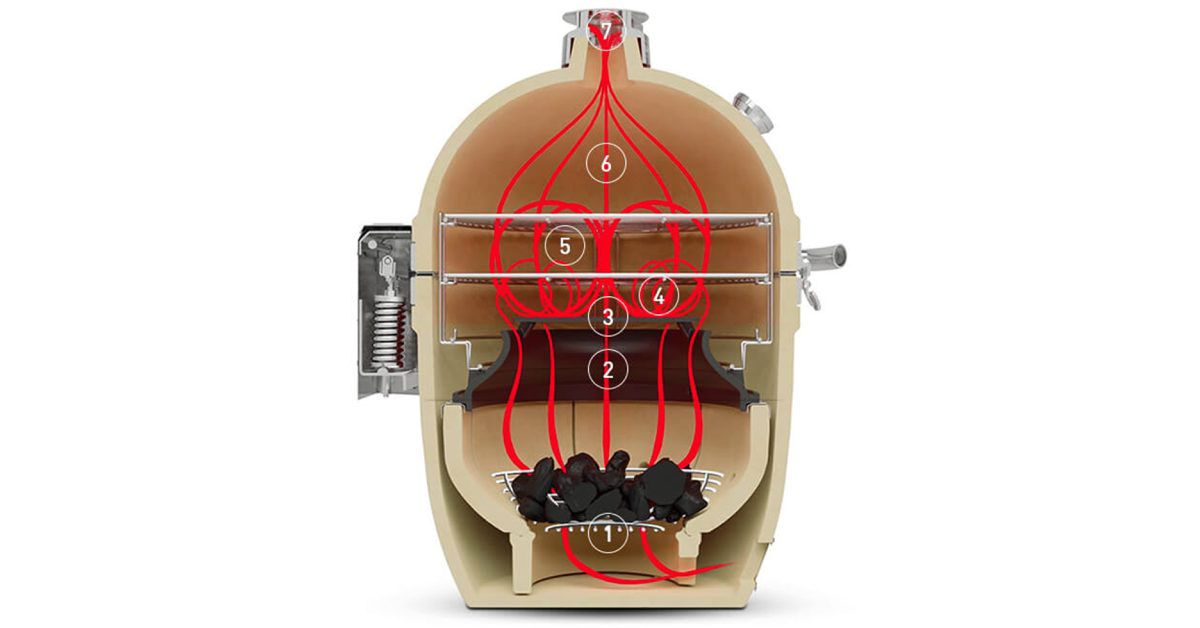 Although hot spots in smokers are not entirely uncommon, you can avoid hot spots if you have the right tools. By distributing smoke and heat more evenly, the SloRoller reduces hot spots throughout the grill's chamber to give you an even temperature, and it produces this effect with surprising simplicity.
Is it Working?
Obviously, there is going to be smoke when using a smoker. However, the more that smoke escapes the chamber of a Kamado Joe or any other, the less it's adding flavor to your favorite dinner. With the SloRoller, you'll notice less smoke escaping as it constantly infuses its flavor in the chamber. This smoking method is vital to adding the most smoke possible to the food itself and not the air outside of your smoker.
Be sure to watch for light blue or nearly clear smoke to ensure you have a clean burn. That's a sign that it's working as intended. If it's another color or is too thick, you might have to wait for the temperature to lower, check your setup and fire, and start from the beginning. It helps to properly install the SloRoller from the start to avoid any mishaps. Read on to learn how.
How to Install the SloRoller
Installing the SloRoller into the Kamado Joe was easy. To install, simply remove the Divide and Conquer system or the deflector plates from the Kamado Joe and replace them with the SloRoller on top of the firebox. Of course, we hope you light your fire first. Add the top plate, stainless steel cooking rack, add your grates, and get ready to smoke whatever food you'd like. Although it might not be tasty to smoke some foods, you certainly can give it a whirl if you're feeling adventurous.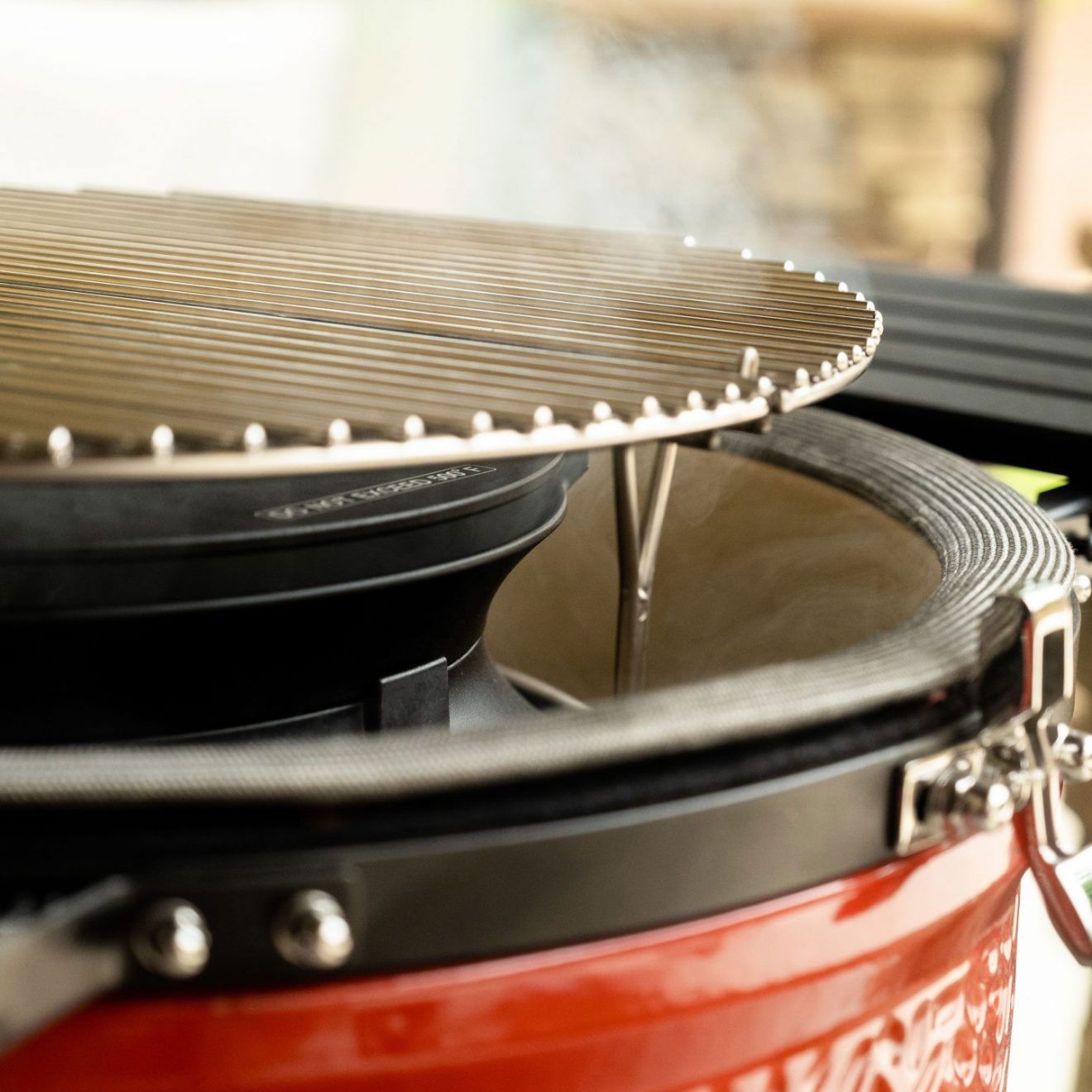 The Results Are In
To test the SloRoller, we smoked various cuts of meat to see how well the product worked on each. Fortunately, we were pleasantly surprised by the results. We could not believe how the SloRoller works to pack your food full of smokey flavor without burning, no matter what the cut of meat was. Best of all? The result was always tender and juicy.
We noticed that the flavor was evenly dispersed through each bite we took, no matter what end we tasted. From front to back and through the center, we did not notice a difference in flavor whatsoever.
The texture was consistent as well and seemed tender and juicy no matter where we sliced the meat. In fact, it was so tender that we didn't need to cut very much for the meat to fall apart in a couple of places. If your mouth is watering, that's to be expected.
Using the SloRoller
When you're ready to enjoy the most flavorful, tender meat you've ever tried, you can smoke whatever meat you'd like. Try a lamb shoulder or whole hen or prime rib for your favorite holiday dinner. Get creative with some salmon or pork, and you'll have the entire neighborhood feeling jealous of your new Kamado Joe accessory.
Whatever you decide, the SloRoller will cycle the smoke, so it infiltrates back into what you're smoking instead of immediately escaping from your Kamado Joe grill. When smoking, be sure to watch the smoke to see if it is blue or clear so you know it is working as intended.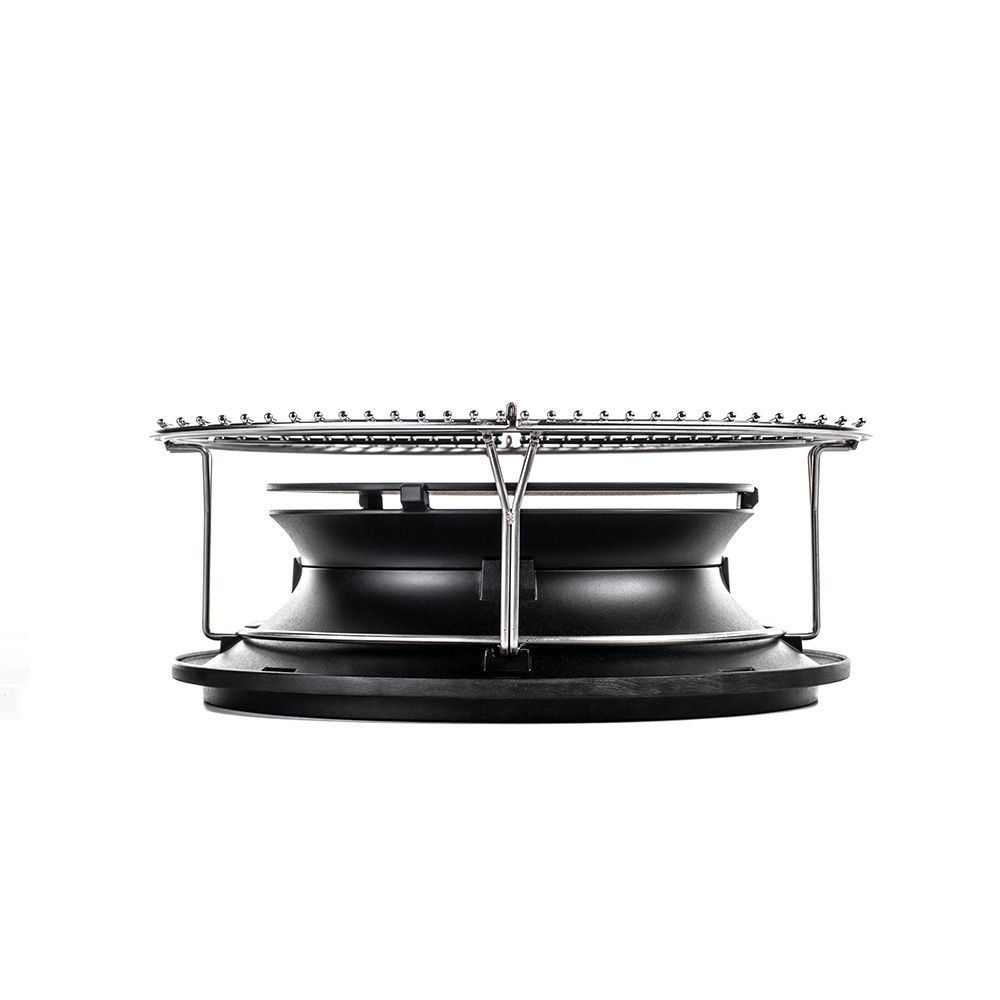 Are you a proud Kamado Joe owner? You are already aware of the innovation and quality you can expect from the products and company. But, for those who are new to the brand, you are in for a treat.
If you have yet to purchase a Kamado Joe, there are tons of options to consider. The models vary in size and options from the Pellet Joe to the Regular Joe to help you get the most from your grilling, smoking, and baking experience. Check out the various accessories available and learn about what features Kamado Joe offers. Go here to get started.