For many Kamado Joe users, charcoal is king. Sure, wood chips like cherry and mesquite are great for incorporating certain flavors into a variety of meats, but there's something about those little black briquettes that keeps grillers and smokers using them time and time again.
If you're one of these people, you get it. However, you also get how messy charcoal can be, and it's messy to set up, and more importantly, it's messy to clean.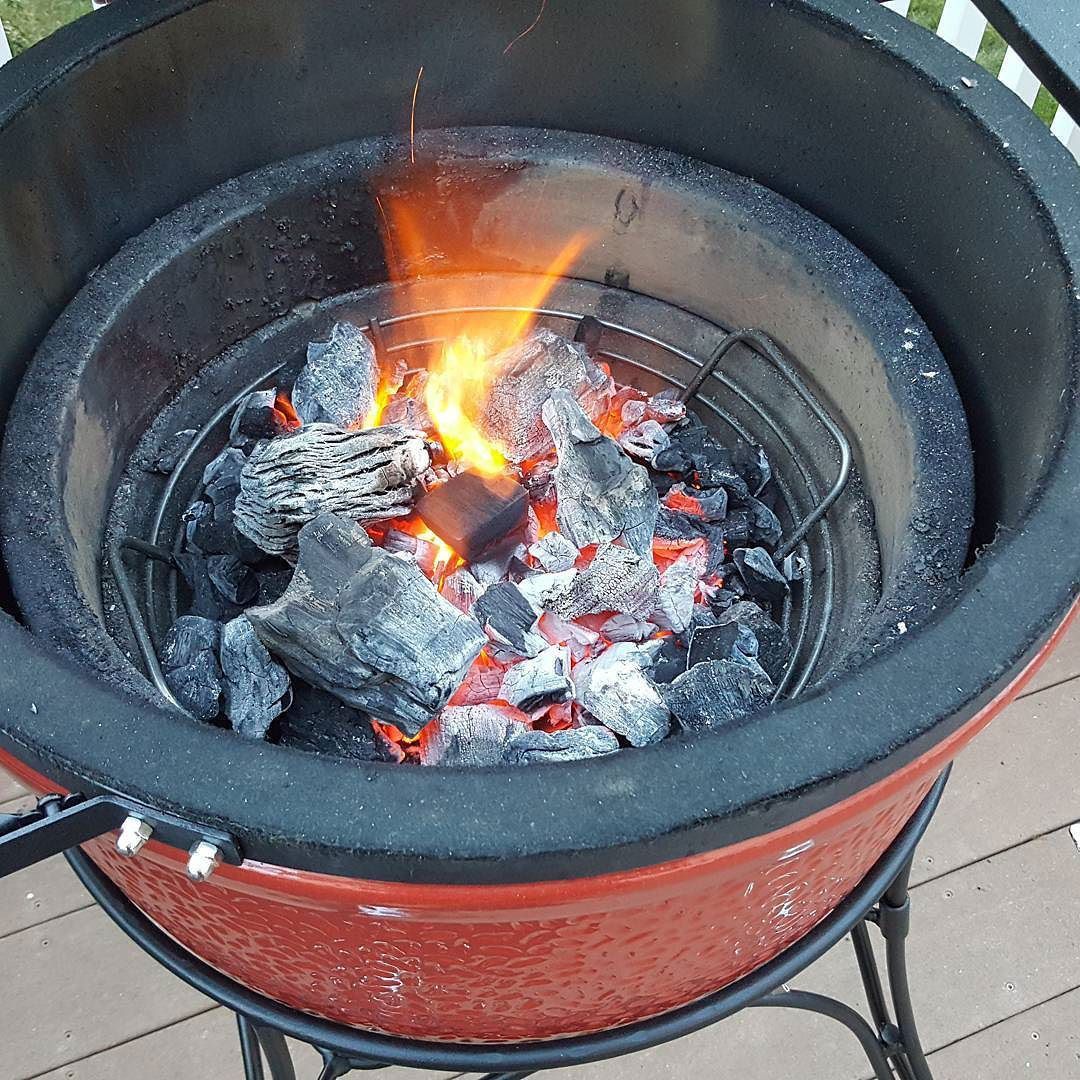 Cleanup can be even more challenging for deep grills and smokers like the Big Green Egg or Kamado Joe. If you own one and have used charcoal in it, you know exactly what I mean.
The Kick Ash Basket promises to solve this dilemma. It also promises to:
Increase airflow for hotter fires when needed
Provide greater control over cooking temps
Do a better job of reusing unburnt fuel to increase fuel economy.
In other words, it can burn charcoal better and make the entire process of using charcoal in a KJ-style cooker easier and less dirty.
Does it live up to these claims? Like the Joetisserie, DoJoe, and every other Kamado Joe accessory out there, I put it to the test to find out. You'll learn all about the Kick Ash Basket and my experiences with it in this review.
Features and Specs
The Kick Ash Basket is designed specifically for kamados, so the dimensions vary depending on which model KJ you're using. That said, regardless of whether you go with the larger basket to fit the Big Joe or the regular size for the Classic, the features are the same.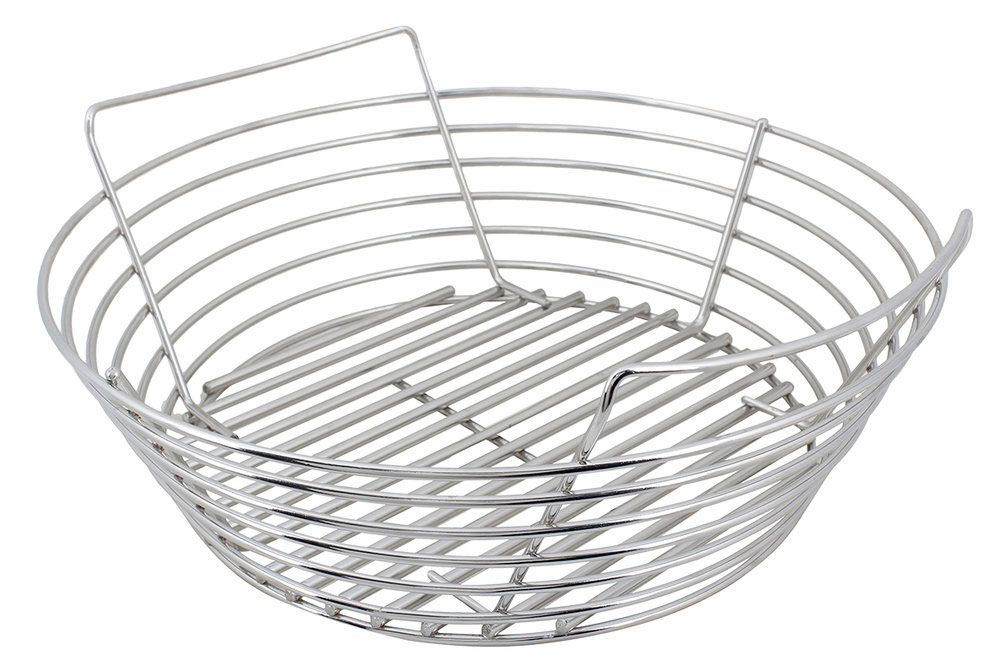 Key Features:
Electro-polished stainless steel
Heavy-duty construction
Precision welding
Honestly, there aren't that many features to speak of. In a nutshell, it's essentially a welded stainless-steel basket with two handles. That's it.
While this may not sound too impressive, as you'll see, it's the specific design of the basket and how it's constructed that makes it stand out.
What's Included:
There's nothing else that comes with it – just the basket. However, to speak frankly, it's a kick-ass basket.
As you can see, the KAB is a basket made of rugged stainless steel. It features handles on both sides for easy placement and cleanup. The basket is also perfectly slatted to maximize airflow and fuel efficiency.
What Smokers Can It Fit?
The Kick Ash Basket is made for Kamado Joes of all sizes, but it will also fit various other smokers and cookers. Here's the full list:
Kamado Joe – Big Joe, Classic, and Junior
Louisiana Kamado – K24
Primo Kamado All-In-One
Big Green Egg – all sizes
Pit Boss
Weber Grill
Saffire Grill
Grilla Grill
Broil King Keg
Vision Grill
To fit all of these grills and smokers, the Kick Ash Basket comes in several different sizes. So, make sure you choose the right basket size for your kamado. If not, it might not fit. If it does fit, it might be too small to achieve your desired flame and heat level.
First Impressions
The Kick Ash Basket doesn't look much different than any other basket. However, it's made of premium stainless steel rather than wicker, which would turn into kindling in a KJ.
It has gaps between each steel bar to keep big briquets in place and let the small stuff fall through with minimal waste. Pretty much the only thing that falls through is a bit of ash.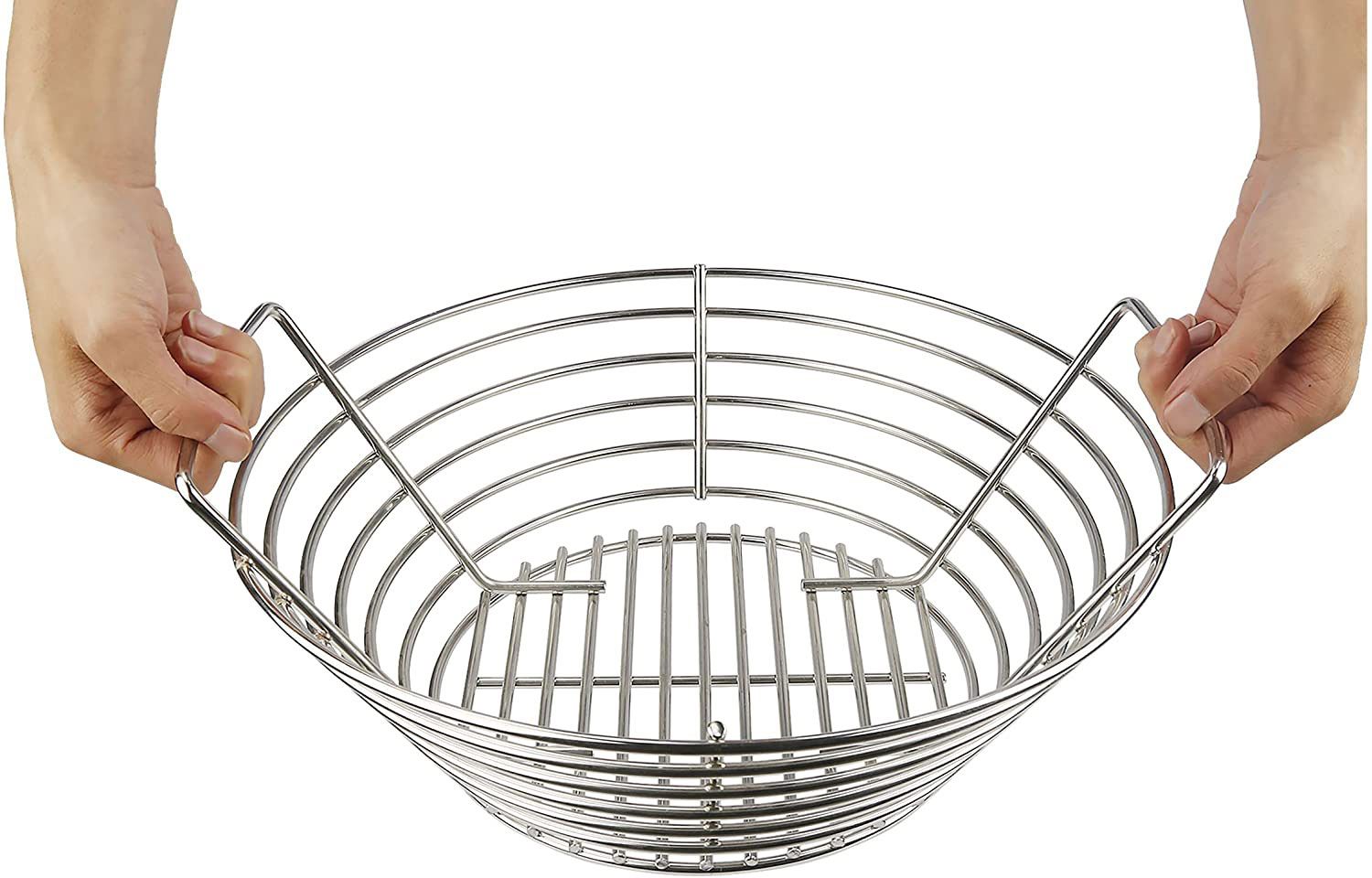 It's made of heavy-duty stainless steel, which not only shines and looks good but can also hold up to extreme heat. Each basket is also welded exceptionally well.
It looks like the folks at Kick Ash went a little overboard with the weld engineering and execution for the simple task of holding charcoal, but hey, it's better than bringing a knife to a gunfight.
Using the Kick Ash Basket
If you've ever used a charcoal basket before, the Kick Ash works much the same way. Before you start cooking, you'll want to clean out your kamado and remove any ash.
With that done, you'll remove the charcoal grate next and place the basket inside your KJ. Make sure it rests flat on the bottom.
Now, most Kamado Joe users recommend using a charcoal chimney starter. If you go this route, you will light the charcoal and then dump the lit coals into the Kick Ash Basket.
If you choose to go the other route and light the charcoal in your KJ, pour the briquets directly into the basket. Then, light the coals as usual. If you're using less charcoal than normal for certain meat or a smaller cooking load, then you can place your desired amount of charcoal in the basket first before placing it in your Kamado Joe.
That's pretty much all there is to it. At this point, you can go ahead and get to grilling.
Cleanup
Just like using it, cleaning up the Kick Ash Basket is a breeze. When you're done cooking, first let your KJ and the charcoal inside cool down.
After it's cooled, use the handles to lift the basket out of the kamado. Then, shake the basket over ashcan or metal garbage can to remove the ash and any small pieces of unburned coal. That's it.
If you have any coals remaining in the basket after using it, the remaining charcoal can be reused for the next rack of ribs, brisket, or whatever savory meat selection you choose.
Pros of Using the Kick Ash Basket
If you can't tell, there's a lot to like about the Kick Ash Basket. While it might not seem like the type of Kamado Joe accessory that would give you an edge on the competition, or next-door neighbor for that matter, it does make grilling on a kamado even better than before.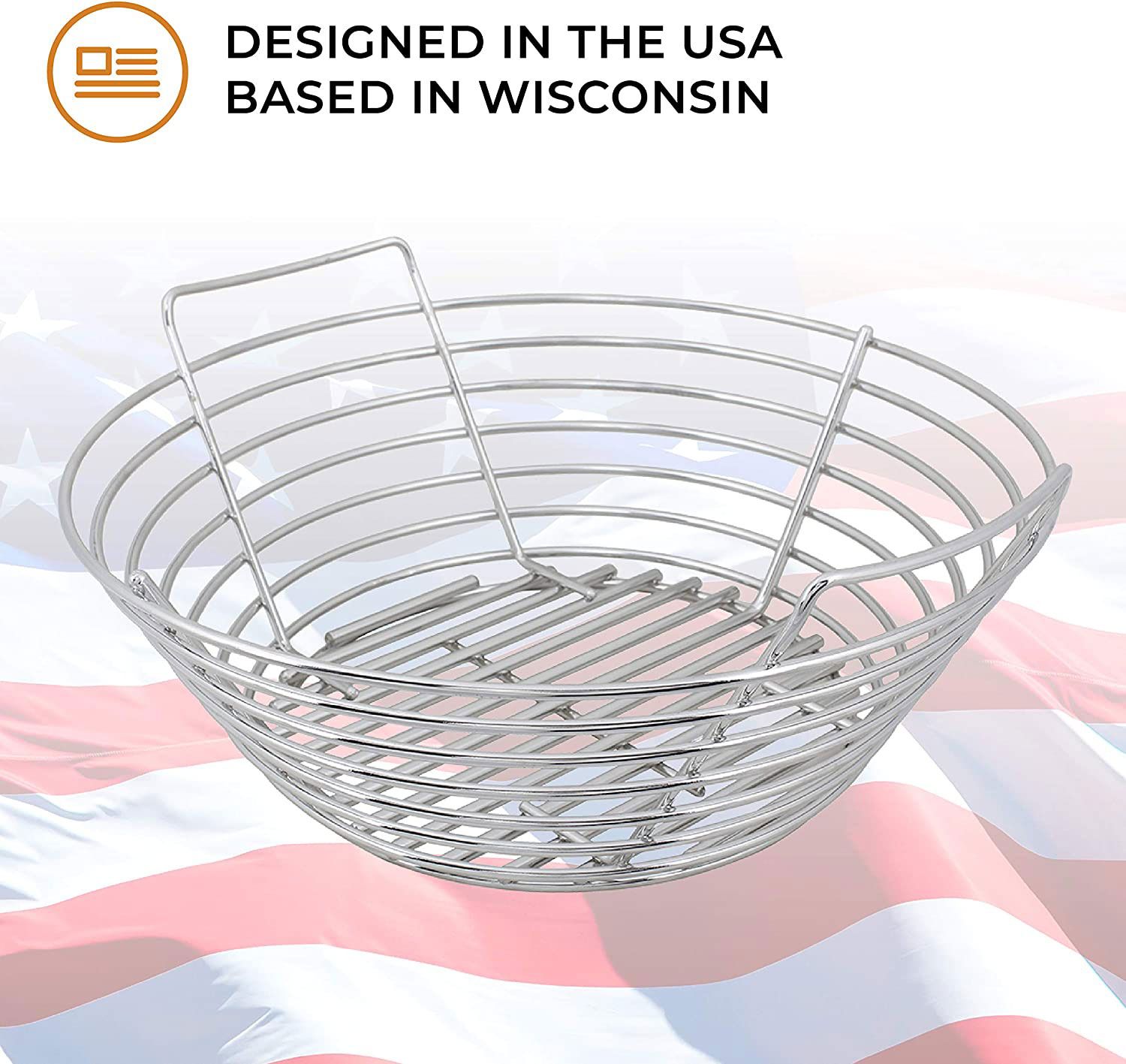 Some of the pros of using the Kick Ash Basket include:
Convenience
Saves both time and money
No need to lean halfway into your Big Joe
Allows you to remove every bit of ash easily
Leaves unburned charcoal for reuse
Promotes airflow for a hotter fire when needed
Three-year limited warranty and 90-day return policy
Cons of Using the Kick Ash Basket
There's little not to like about the Kick Ash Basket. It's easy to use, gives you better control over fire temperatures, and helps keep your Kamado Joe clean. That said, nothing is perfect.
Some of the cons of using the Kick Ash Basket include:
Handles sit a little close to the walls
Can be tricky to pick up with thick gloves on
Is It Worth It?
Let me be clear; I don't mind getting a little ash and coal dust on me when in the zone with my Kamado Joe. However, any tool that minimizes exposure to charcoal and its mess is a good thing in my book.
Not only does the Kick Ash Basket make the grilling or smoking experience a lot less messy, but it also helps maintain a consistent cooking temperature. By improving airflow around the charcoal, getting the right cooking temp is easy.
Before getting the Kick Ash, I often used the Kamado Joe Ash Tool to get the ash to fall through the fire grate. Unfortunately, the holes would get blocked with tiny pieces of coal debris, which made controlling the temperature difficult when grilling.
When it came to smoking and slow cooking, I would have to throw out unburnt coals when replacing the coal in the kamado with a fresh load, which is a definite must to maintain a consistent cooking temp for hours on end.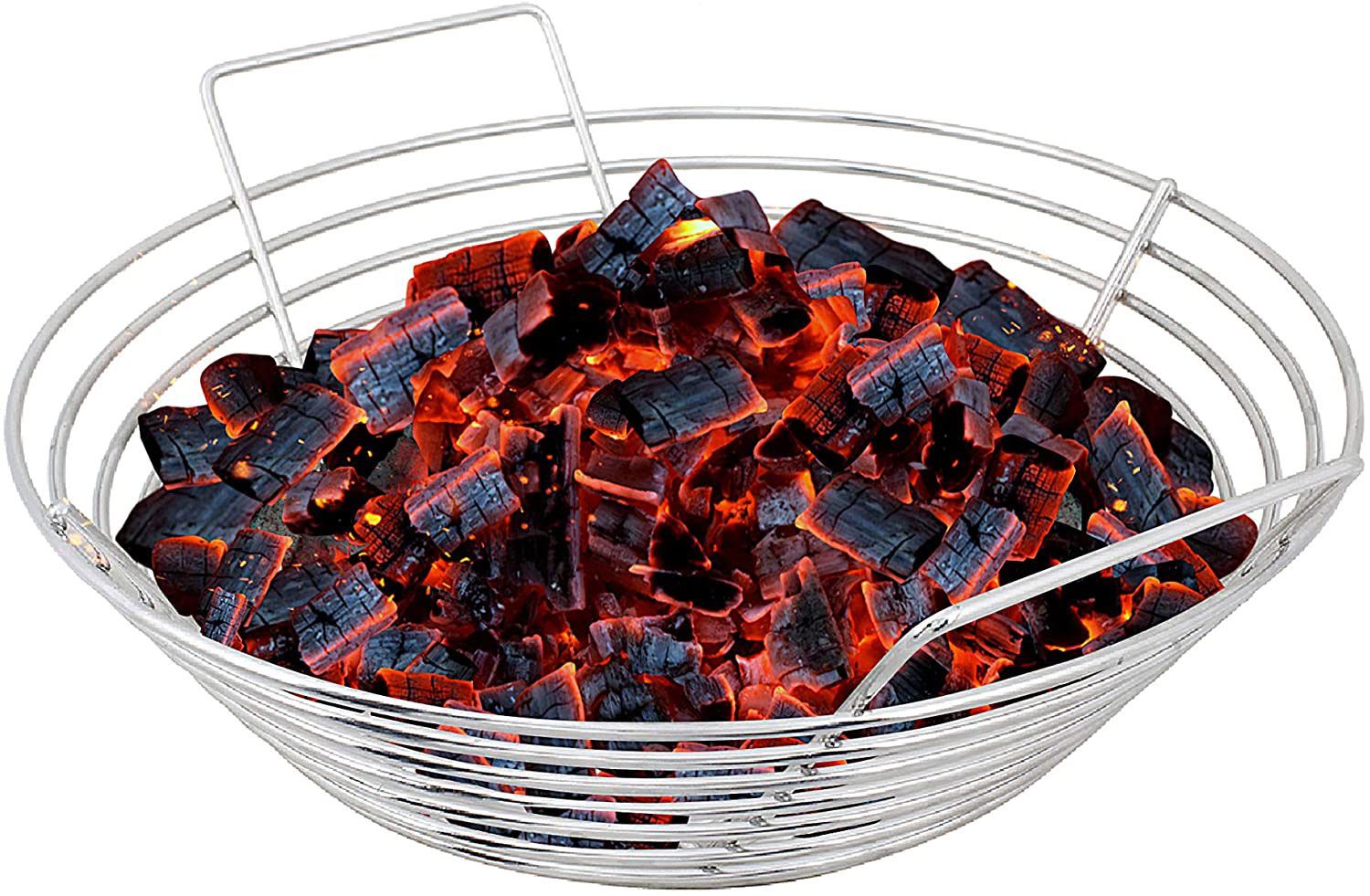 Thanks to the Kick Ash Basket, these issues are a thing of the past. With it, you can pick up the coal, shake the ash and any loose bits out, and add fresh coal as needed. You're good to go. My great experiences with it led to this review.
Needless to say, after owning the Kick Ash basket for over a year now, it has paid for itself. In addition to throwing away much less fuel, it has saved countless hours by not having to empty my kamado manually. I am having less of a mess, and staying cleaner while cooking is another huge plus.
All in all, it does enhance the Kamado Joe cooking experience. If you're like other KJ owners who have invested countless hours into this style of cooking and me, this product is definitely worth the investment.