There's no doubt about it – the Kamado Joe is a life-changing piece of cooking equipment. However, to really use it to its juicy, skin-crisping potential, you'll want to consider some accessories.
From baskets to half-moon griddles and grill grates, there are plenty of accessories for the Kamado Joe worth checking out. You can use them all, and probably should depending on the menu, but one of the most popular is the JoeTisserie.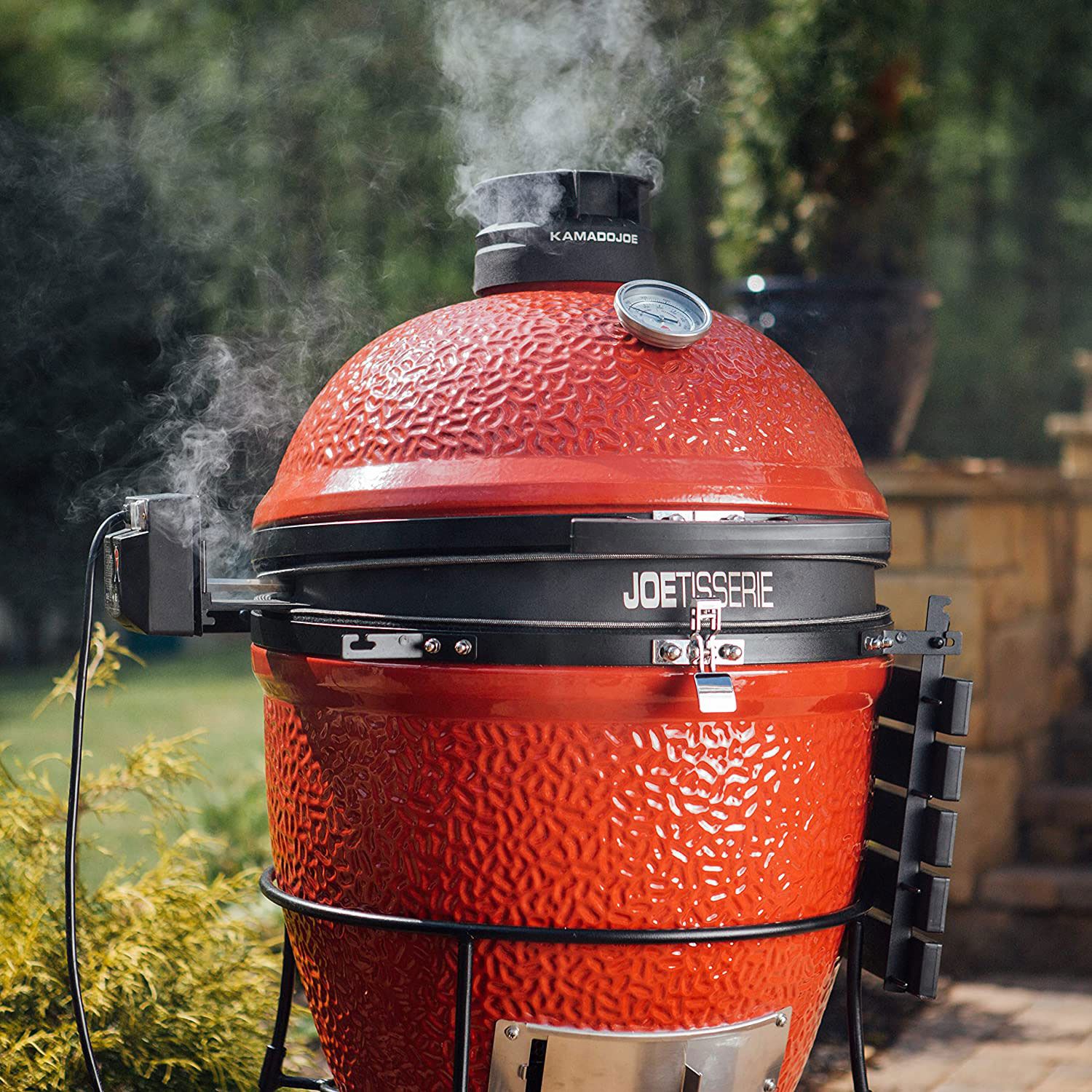 With the JoeTisserie, you can cook any meat you want low and slow for superior juiciness and bark. From turkeys and chickens to prime rib, roast beef, leg of lamb, chicken wings, and the list goes on; it spins away to slowly create mouth-watering BBQ any carnivore would love to bite into.
That said, if you're new to Kamado Joe's or on the fence about what exactly you get with the JoeTisserie, there are some questions you probably want answered. What comes with it? How does it work? Is it worth the price? Where can I get one?
Keep reading to find the answers to these questions and much more info about this must-have Kamado Joe accessory in the review below.
Specifications:
Dimensions – 21 x 24 x 21 inches
Material – Stainless steel
Grill Model – Classic
What's Included:
Cast aluminum JoeTisserie insert
Rotisserie motor with 120-volt triple-prong cord
Stainless-steel spit rod
Two stainless-steel forks with thumbscrews for spit rod
Two-year manufacturer warranty
The JoeTisserie is designed to work just like a regular rotisserie, but it is specifically fitted for the Kamodo Joe Classic. Inside the box, you'll find a stainless-steel spit rod, a patented wedge-shaped insert to make sure the spit rod skewer stays in place, two adjustable forks to keep meats firmly in place while spinning, and a motor to spin the spit rod, even when loaded with up to 40 pounds of meats and other foods.
First Impressions
First things first with this review, the contents of the box were well-protected with Styrofoam packing. It's not exactly recyclable and environmentally friendly, but hey, it works. The package arrived on time, undamaged, and everything inside looked fine.
Like everything else these days, the label said, "Made in China." However, similar to other Kamado Joe products and maybe even your favorite pair of jeans, it looks great and super well-made.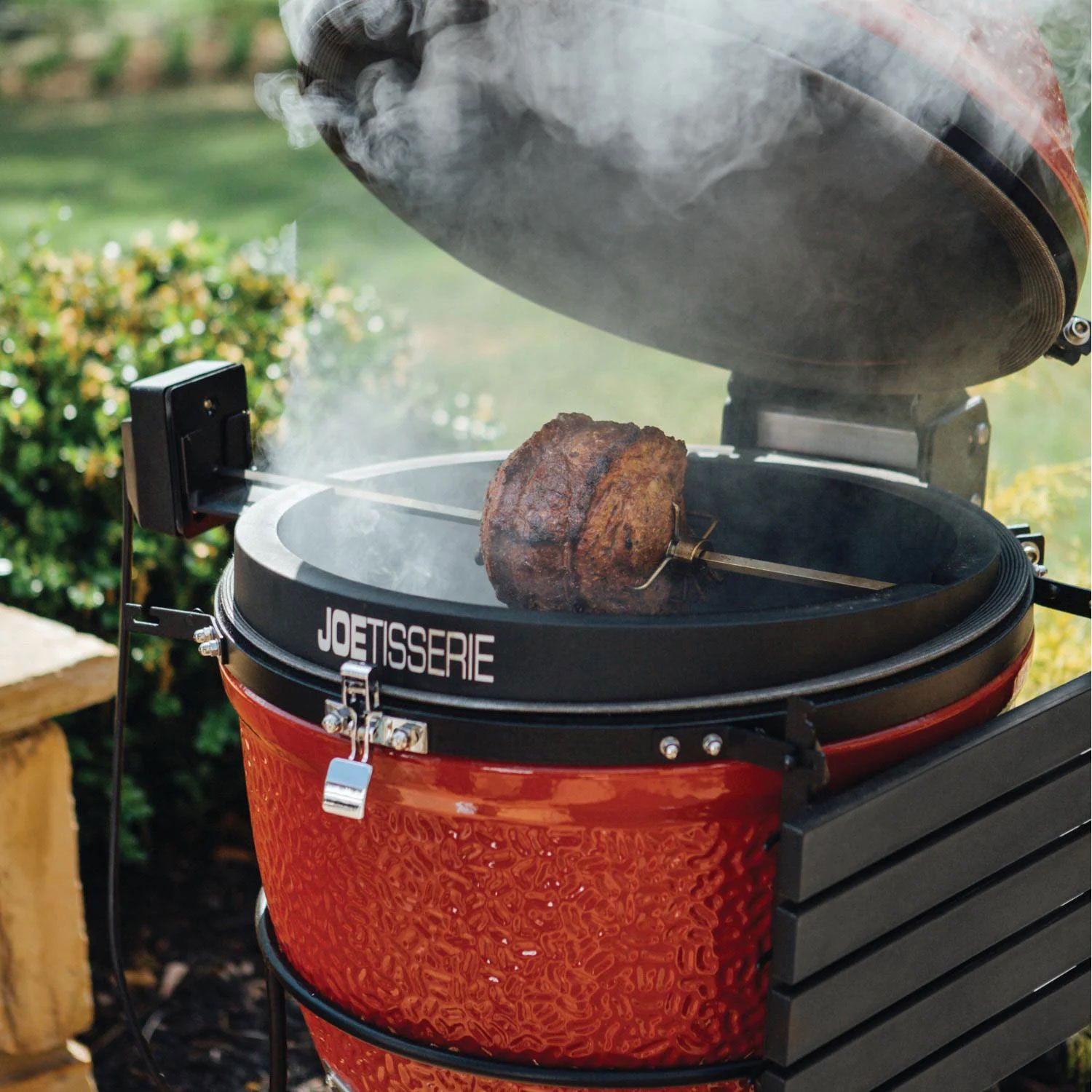 Overall, each of the pieces seems solid and extremely high quality. The spit rod and forks feel hefty and shine as new stainless steel should, the cast aluminum insert features a nice matte gray finish, and the motor looks like it can run forever. As you'll see later in this review, it was put to the test.
Assembly
The JoTisserie is designed to easily transform your ceramic Kamado Joe Classic into a rotisserie grill. To do so, you first insert the patented cast aluminum ring into the Kamado. The front of the ring is thicker than the back to allow the lid to close.
Meanwhile, the spit rod and forks are both constructed of 304-grade stainless steel, and getting them in place is pretty self-explanatory. The forks can also be adjusted for steady rotation and balance. Just be sure to first put one claw facing the food and then the other claw to keep the meat in place on the skewer while it spins.
Using the JoeTisserie
When you're done reading this review and ready to transform your Kamado Joe into a meat-turning machine, the only thing to do is put the meat on the spit rod-like we just discussed and turn on the quiet yet powerful 120-volt motor. Yes, that really is all there is to it.
You can cook a huge variety of rotisserie-style meats, vegetables, and even fruits. Pineapple and chicken is a popular pairing, but you can get creative with pork and apples, beef and plums, and all types of other combinations. Then again, you can also just stick to meats. The choice is yours. Isn't fire and freedom great?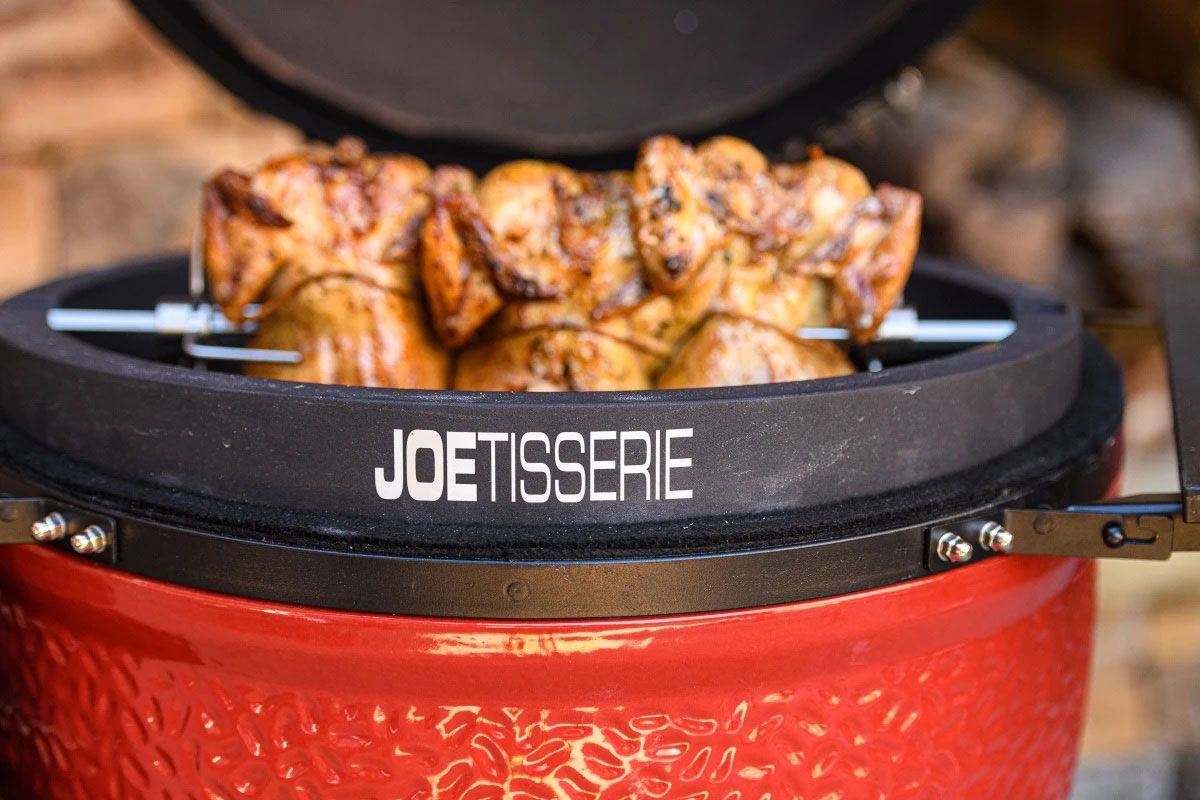 Back to the point, regardless of what you put on the spinning spit, you can count on it being juicy and delicious. In fact, a major advantage of rotisserie cooking is the fact that the juices drip back into whatever you're cooking rather than dripping off. This helps keep the food nice and juicy.
When going rotisserie-style with your Kamado Joe, just make sure to keep the hottest coals around the edge rather than directly under the meat. This will cook it more evenly and prevent any charred skin.
Cleanup
Cleaning up the rotisserie kit is a snap. Both the spit rod and the spit rod forks are dishwasher safe, so you just stick them in either by themselves or with some other dishes, and you're good to go.
That said, one thing to note is that the smoke from the wood may cause the stainless steel to patina. The more you rotisserie, the more "antiquey" the rod and forks will look.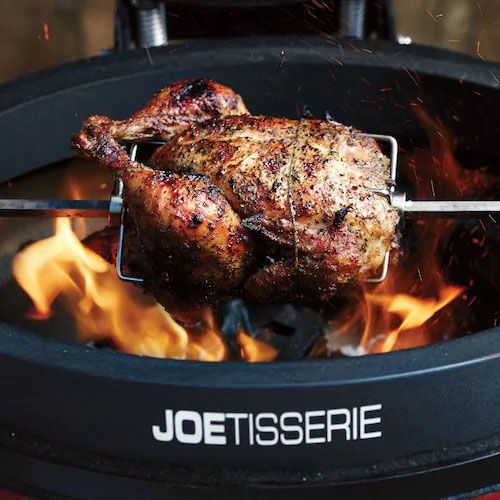 Unfortunately, while the folks at Kamado Joe did focus on making cleanup a breeze, they obviously didn't think much about storage. There are no custom storage containers or bags available for the JoeTisserie, and the original packaging with custom-cut Styrofoam will only last so long.
This means you'll need to find the right-sized box or place to store the motor, cord, spit rod, and forks. If you're like me, it will probably end up on a shelf in the garage.
With that said, let's look at some of the kit's pros and cons.
Pros:
Very well-made and easy to assemble
Fits the Kamado Joe, Big Green Egg, and other 18-inch ceramic grills
Extremely simple to use
Slowly spins food and promotes self-basting for added juiciness
Gets skin nice and crisp
Cleanup is a breeze
Cons:
Storage bag not included
Somewhat short power cord
Is It Worth It?
So, does the JoTisserie live up to the hype, and is it worth the $249 asking price? Well, after using it for cooking up dozens of chickens, prime rib, beef brisket, lamb shoulder, pork butts, and any other meat I've had the satisfaction of barbecuing with the Kamado Joe Classic over the past three years, I can definitively say: Yes, it's definitely worth it.
Why? Well, first of all, it's pretty easy to use. Sure, it only has a five-foot cord, which means you'll need to place your Kamado Joe near an electrical outlet in order to conjure up its magical rotisserie powers.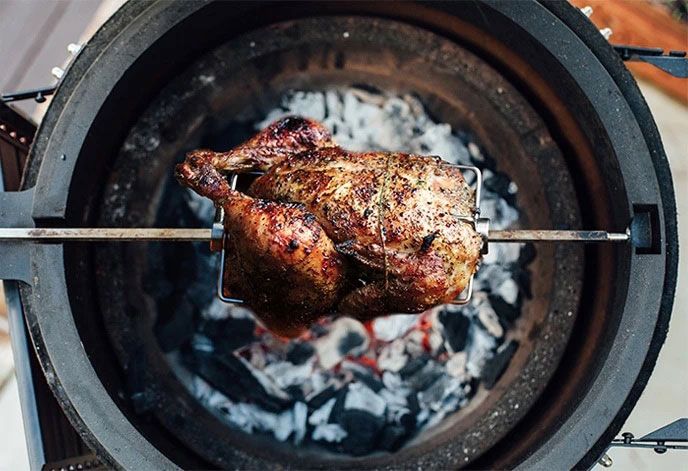 However, all you really need to do to make the magic happen is plug it in and press a button. The meat will spin away and lock in its juices over cherry chips, pecan, or whatever fuel you choose to use.
After you have the coals the way you like, you simply put your meat on the spit rod, turn on the rotisserie motor, and let it do its thing. Juicer meat and crispier skin with no extra effort? Sounds like a good deal to me.
In fact, if you have a Kamado Joe grill and want to take your spit roasting to the next level, the JoeTisserie is a must-have accessory. Still here? What are you waiting for? There's no time like the present, so get your rotisserie on today!