Singles, couples, or small families who enjoy backyard grilling can find a perfect companion with Kamado Joe JR. The versatile grill can give you an outdoor cooking experience that lets you enjoy the outdoors. Easy to take wherever you want, it performs beautifully on weekend escapes for campouts, fishing trips, road trips, or getting away from it all at a cottage in the woods.
Meeting Kamado Joe JR
Whether you prefer grilling, baking, searing, or smoking, you can do them all with the portable Kamado Joe JR. A grill that can fit in the trunk of your car or on your apartment balcony makes it ideal for enjoying tasty meals without the hassle. With a weight of 68 pounds and a sturdy frame that holds it, you can count on its stability and safe operation. A circular grate gives you a little less than 150 square inches of cooking space, and the temperatures it can provide range from 180--700ºF.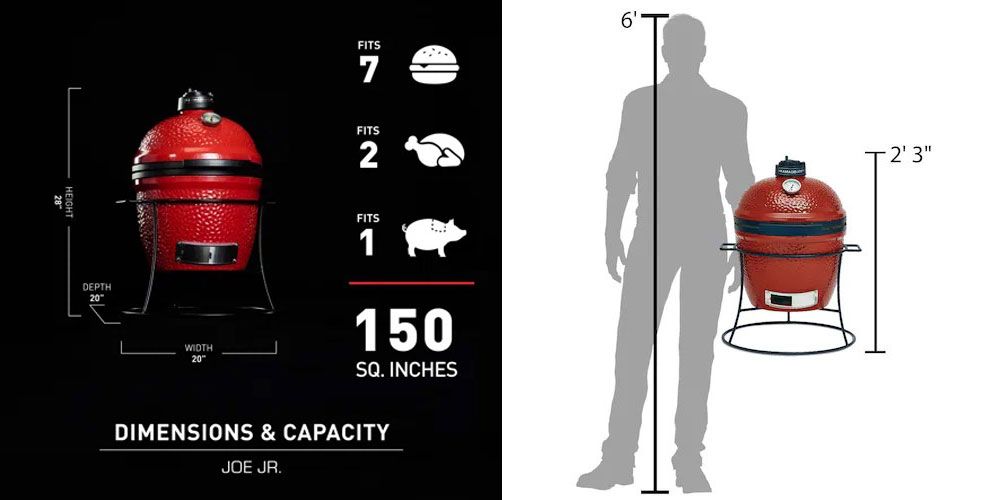 Using Kamado Joe JR for Taste and Convenience
Charcoal provides the heat for anything you want to have the traditional taste of grilling. You can cook a steak any way you like, or you can use it for other meals as well. Smoky barbecue has flavors that develop slowly over low heat to give you amazingly tender meat. Use it as a griddle for a morning meal at a campsite or to bake a pizza at the end of a hiking day.
Finding the Best Features of Kamado Joe JR
As a smoker, the Kamado Joe JR grill excels. It offers the best features of a good grill with the convenience of portability. In addition, it retains heat and keeps your flavorsome meals warm and tasty until you get ready to serve them. Easy to start, Kamado Joe JR can provide a handy resource for cooking everyday items like hot dogs or hamburgers while you prepare everything else.
Cooking for Variety
The delicious flavor of charcoal-grilled burgers and steaks on a Kamado Joe JR gives you reason enough to choose it as a preferred cooking style. However, its versatility goes much further than that. Beef ribs fall off the bone after they cook on a Kamado Joe JR.
You can prepare a pork shoulder that lasts for several meals with mouthwatering tenderness. A brisket makes a wonderfully tempting main dish or an amazing sandwich with barbecue sauce. A favorite for health-conscious singles, couples, or small families puts salmon at the center of a nutritious meal. When you allow the grill to heat to 200-250 degrees F, it can start an hour-long smoke, making the fish a perfect delicacy.
Who is the Kamado Joe JR Best Suited For?
Best for singles, couples, or small families, it performs as well as large grills but with added conveniences. Small enough to take anywhere, the grill's weight and size make it ideal for almost every occasion. The efficient grill that can handle main dishes every day appeals to almost everyone except large families. Whether you want to tailgate at your local stadium, go to a campsite, or grill something tasty in your backyard, Kamado Joe JR gives you all the options you need.
Comparing the Pros and Cons
The Kamado Joe JR gives you almost nothing not to like. It does not claim that it can serve a crowd, but it does everything else that you want in a grill. A lifetime warranty assures you of reliable use that gives you peace of mind.
Pros
• ceramic construction in eye-catching red
• rust-resistant stainless steel grill
• versatile functions to smoke, sear, and roast
• circular design that retains heat well
• maintains a consistent temperature
• easy to add more coal as needed
• efficient heat control of charcoal
• ceramic deflector for smoking
• efficient fuel use
• cast iron stand
• secure and well-fitting lid
• built-in thermometer
• portable for away events
• less expensive
• high quality that reflects your knowledge and sophistication
Cons
• Size (small)
• Start-up time compared to a gas grill
• Some people might not enjoy smokey flavors
• Dust associated with charcoal
Comparing Kamado Joe JR to Gas Grills
People who like to grill often consider it a relaxed way to cook without hassles. Unfortunately, gas-powered grills reinstate some of the things you want to avoid. Gas grills need a permanent connection or a heavy tank, and neither affords easy transportability. They offer the advantage of starting quickly, but many people enjoy the time to chat with others while a charcoal grill heats to the right temperature. Grilled items cook quickly, again reducing the camaraderie that grilling outdoors offers.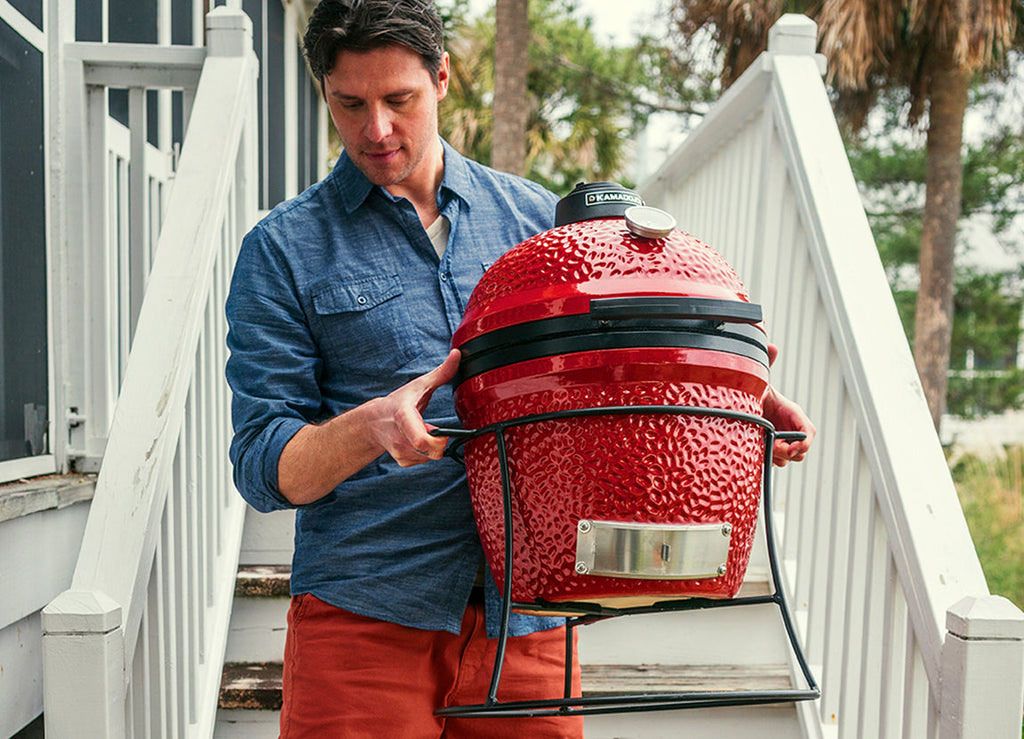 On the other hand, the Kamado Joe JR has the versatility that makes it an interesting focal point in an outdoor setting. Whether you want to grill a favorite cut or expand your culinary skills, you can do it all. Searing meat, baking a pizza, roasting vegetables, or slowly smoking a cut for hours gives you multiple ways to cook creatively outdoors.
The high-quality grill invites home cooks to adventure into options for preparing the food according to a time-honored tradition with technological improvements. The dome shape design helps Kamado Joe JR circulate heat evenly and retain it. You can use the vents on the top and bottom to adjust for heat or smoke.
Considering the Value
No one considers the Kamado Joe JR inexpensive, but it does cost much less than most average Kamado grills. Value, however, depends on more than price. The Kamado Joe JR is worth its price tag, letting you smoke, bake and roast anything you choose. It's also easier and faster to start and uses less charcoal than the classic or big Joe.
Choosing a Small Grill for a Reason
Every cook knows that the clean-up process, while necessary, can take the fun out of almost anything. In the choice of grills, a large cooking surface requires much more effort to clean than a small one when Kamado Joe JR can do a better job and give you more options.
Fitting Burgers on the Kamado Joe JR
No question that the 13.5" cooking surface on the stainless steel grate provides less space than a large grill. However, it can handle enough burgers for a small family. Depending on how large you like your servings, you can fit four to six burgers on the grill. You can even put a cast iron skillet on the cooking grate. Each burger gets the smoky and intensely flavorful treatment by Kamado Joe JR.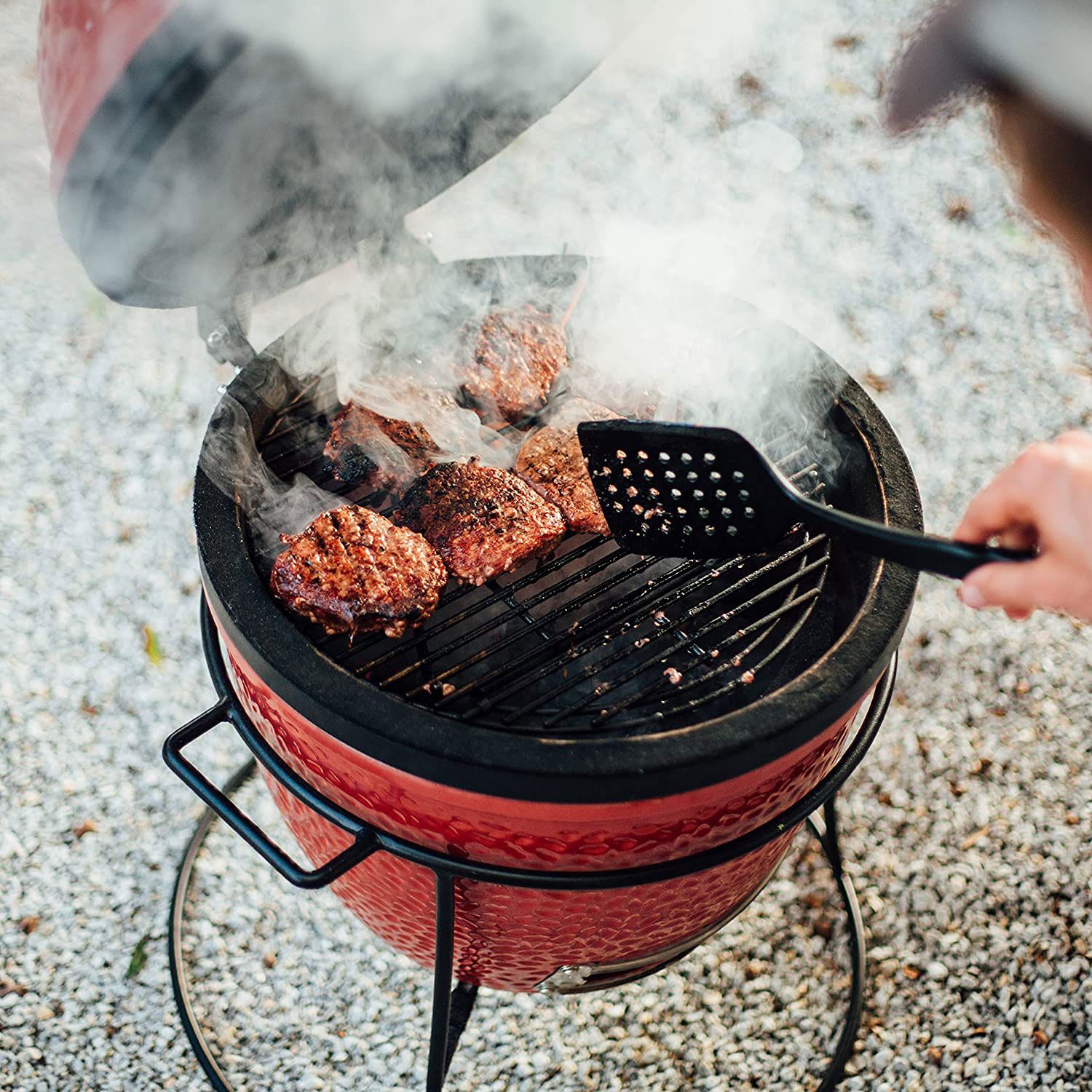 Many portable grills promise transportability, but none can equal the quality built into the small and powerful Kamado Joe JR grill. The cooking space measures just under 150 square inches, providing more than enough area to do your smoking, baking, and braising under the red dome.
Meeting Your Grill Needs with Kamado Joe JR
The solidly built grill uses only the highest-quality materials, proving the cooking performance. The heat retention makes it desirable, but its weight of less than 70 pounds makes it a keeper. The designers' attention to detail includes a handle that does not get hot, a convenience that you may experience when you choose Kamado Joe JR for all your grilling needs. The dome lifts easily with the help of a spring-assisted hinge. Even more, it stays up when you need time to add charcoal or turn something on the grill.
Everything about Kamado Joe JR signifies quality as it impresses friends and family with its efficient and pleasing performance.