If you already have a Kamado Joe, why not increase its functionality rather than going ahead and buying a whole new pizza oven? The DoJoe is a pizza oven accessory that transforms the Kamado Joe into a pizza oven, making you the best host for game nights.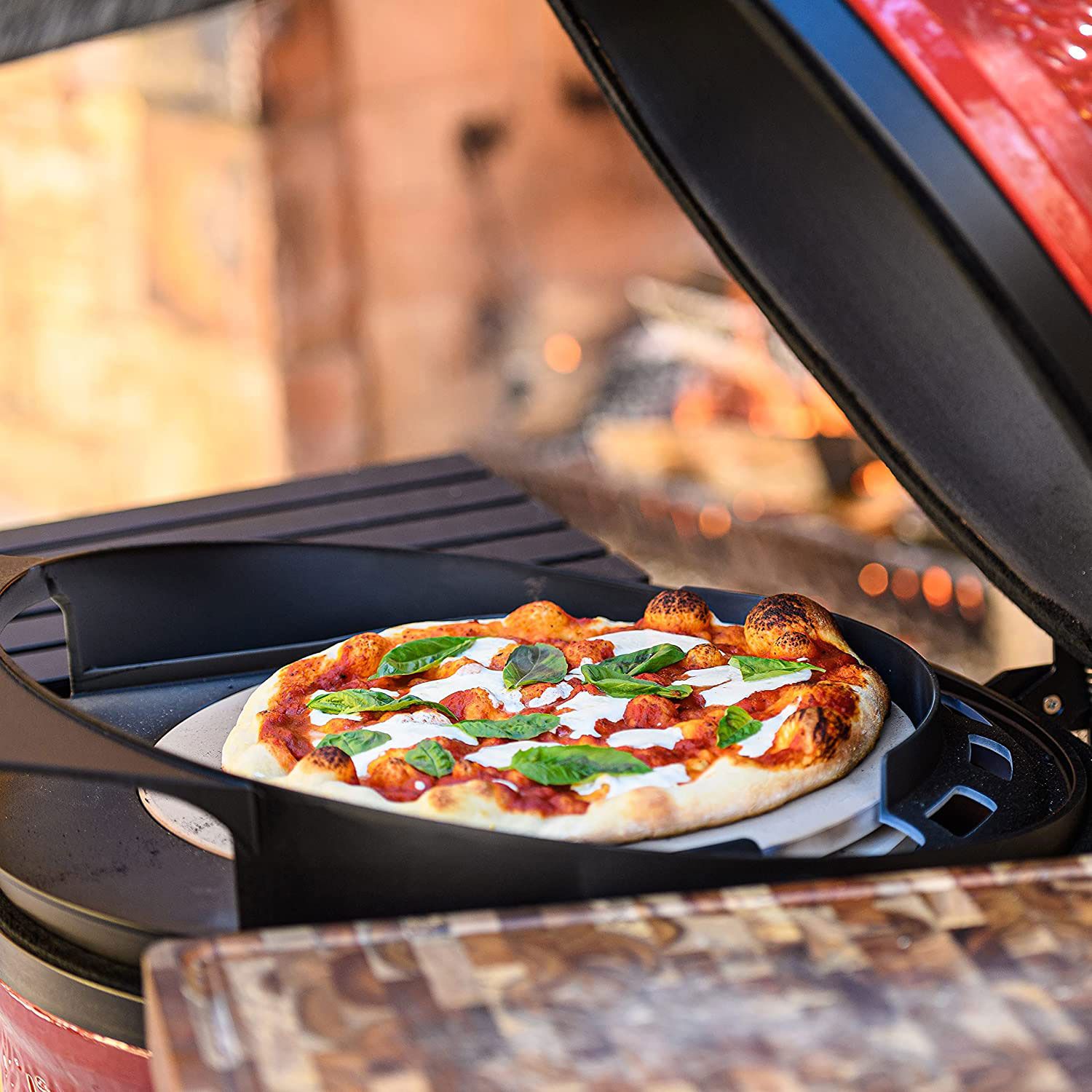 Some users have regarded it as a "life-changing accessory," while many pizza lovers swear by its ease of use. It also works with the company's pizza stone and deflectors, naturally increasing its functionality.
So, we took it upon ourselves to explore how well this accessory works and whether it is worth the price point.
In the review below, we talk about the price, functionality, assembly, cleanup, and other features of the pizza oven accessory.
Specifications
Cast Aluminum Ring
Ceramic pizza stone
400°F to 700°F temperature range
What's Included
The Kamado DoJoe includes a pizza oven accessory that you have to insert into your Kamado. Make sure you check the size before buying, as the accessory is available in two dimensions, depending on your Kamado.

It works pretty much like a regular pizza oven but is explicitly made for Kamado products.
First Impression
At first glance, it looks and feels high-end. It comes in a box with Styrofoam packing to protect the interior from any mechanical or physical damage. As for its environment-friendliness, we cannot make any promises there.
The accessory also feels premium to touch, so you know it is made of good-quality materials. Also, it is made explicitly for the Kamado grill, so it will definitely fit, and you will not have to find your way around an ill-fitting pizza accessory.
We also noticed that it does not come with anything for storage. The pizza accessory is big, so you will have to find a way to store it. The original packaging that it comes in will not last for long, especially if it is exposed to heat.
Therefore, you will have to find a box to store the accessory when it is not in use.
Plus, there is no front cover that could seal up the accessory after use. So, you should be prepared to waste a lot of charcoal when using this accessory.
Assembly
Since it is just an accessory, assembly is not a problem. The unit comes pre-assembled, and you have to insert it in the Kamado. It is available in two sizes, namely the Classic Joe and the Big Joe.

Using the DoJoe
Now, let's look at how the unit works and whether it is better than a separate pizza oven. The accessory has a cast aluminum finish, which means it is durable and can go through multiple rounds of pizza making before showing any signs of damage.
It is ideal for experts and beginners alike since using it is a piece of cake. Because of the wedge shape, the unit maintains temperature steadily between 400°F to 700°F.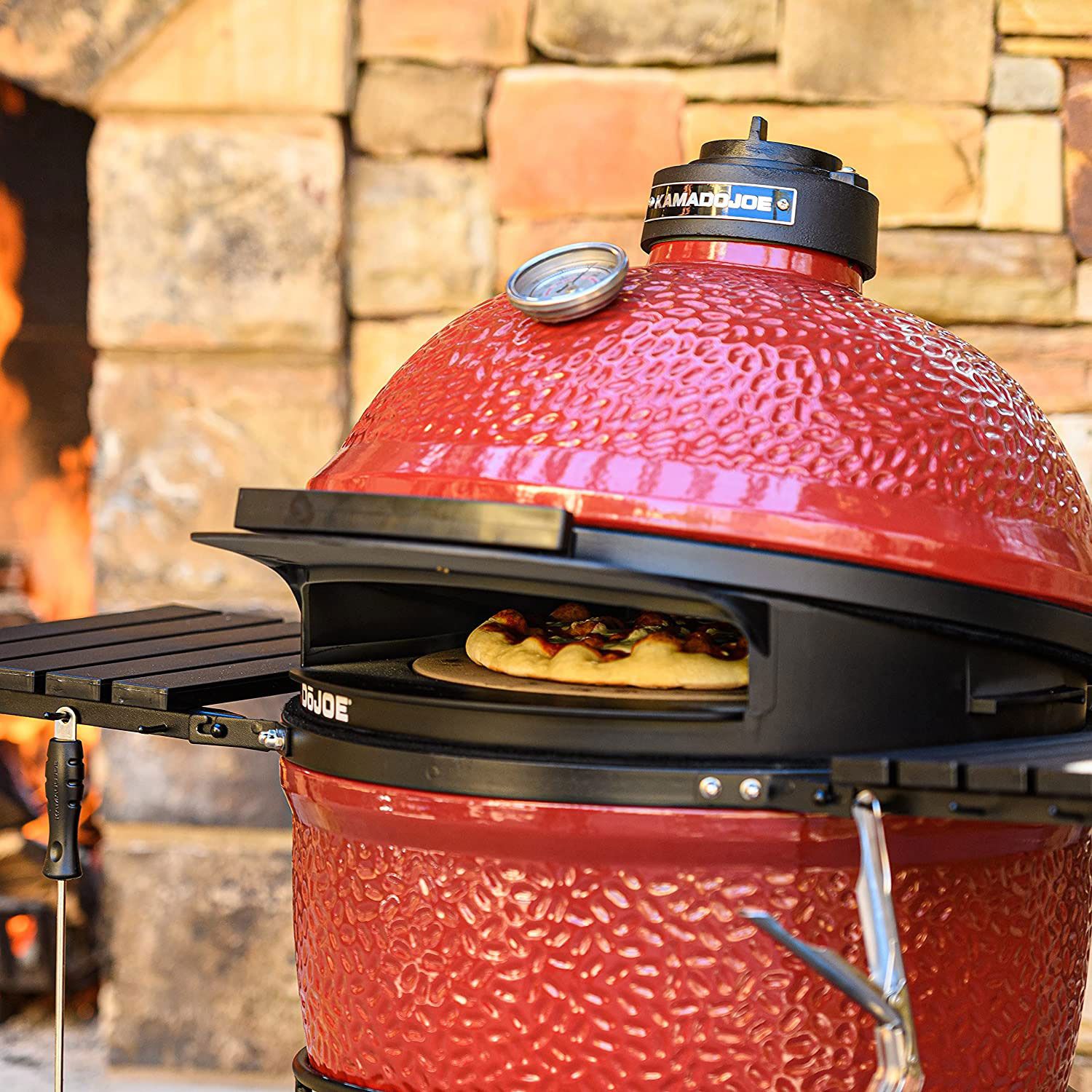 Irrespective of how long you use the pizza accessory or the number of pizzas you make, the unique wedge shape keeps the temperature steady so that you get the perfect crust every single time.
Plus, the pizza accessory is always in open sight. Thus, you can monitor the progress of your pizza and check it now and then without having to open or close the lid, as you would have to do in a pizza oven.
It is also compatible with Kamado Joe Pizza Stone and the Heat Deflectors, allowing you to get the perfect crisp toppings and crust for your pizza. The manufacturers also recommend you use the Pizza Cutter accessory if you want to get the "ultimate pizza cooking experience."
Moreover, cooking a pizza on the DoJoe gives it a perfect wood flavor that you cannot get from an oven. If you want to be known as the best pizza chef in your family, it can help you grab that title.
Overall, it works quite well, but you cannot turn the grill off when the cooking is done. It would have been helpful if there was a metal covering for the pizza slot.
The only possible way out is to close the lower vent. When you do this, the grill will keep burning your charcoal until it is all burnt. Some people would consider it a waste and may want to prevent this. However, the unit does not come with such provisions.
Cleanup
After using it, cleaning up is also a breeze. Bear in mind that the DoJoe will be hot to touch after you remove the pizza from it.
Make sure you wait for the appropriate amount of time before touching it for cleaning.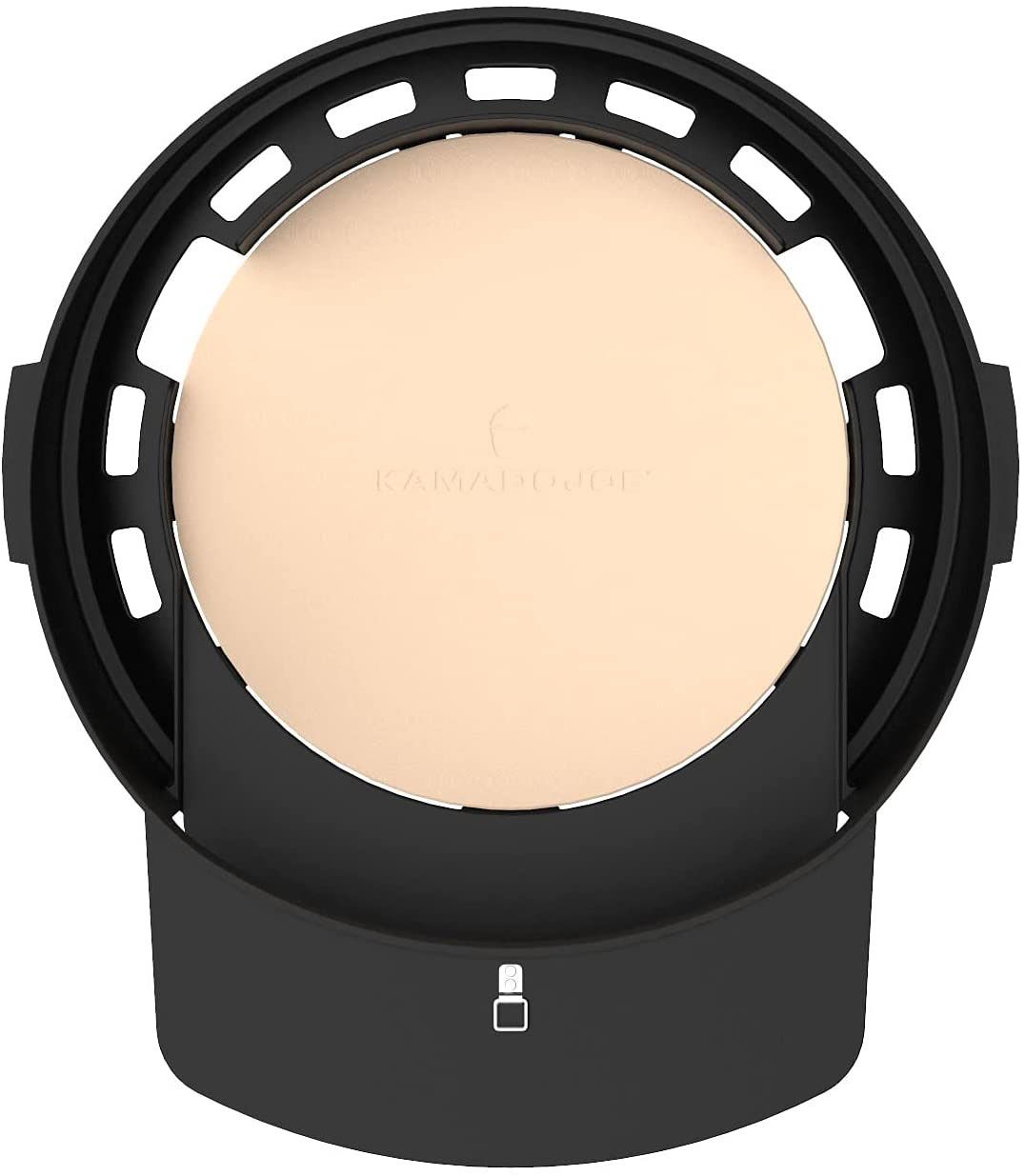 After cooling, you can run it under tap water and use dish soap to clean it properly.
Kamado's website does not specify if the accessory is dishwasher-safe, so we recommend you read the user's manual before putting it in the dishwasher.
In any case, it should not get too greasy or dirty that you have to put in the elbow grease to clean it. Put a few drops of dish soap on the accessory and use a sponge to remove any stuck pizza crust or dough. Then, run it under clean water, and it will be ready for the second use.
Some customers commented several times on the company website about the coating flaking off after using the accessory at high temperatures.
If that happens, you should use a soft brush to remove the loose bits from the pizza accessory.
In this way, they will end up in your pizza. To prevent further flaking, make sure you are cooking your pizza at temperatures below 650F, as the material seems to flake only at higher heat settings.
Pros
Here are the pros of the pizza accessory:
It is easy to clean and set up
Can go to high temperatures
Unique wedge shape keeps temperatures steady even for long hours
Dedicated support for the Kamado Heat Deflectors and Kamado Pizza Stone
Suitable for both experts and beginners
Allows easy and hassle-free monitoring of the pizza while it cooks
Cons
The DoJoe has several benefits, but here are some of its shortcomings that you should know about before purchasing it:
Its high price
It is super hot to touch for quite a while after cooking
No easy way to extinguish the fire without letting all the charcoal load burn
The coating tends to flake off due to subsequent cooking at super high temperatures
Is it Worth It?
The pizza accessory makes delicious pizzas with perfect crusts. It gets the job done in the best way possible, but the $250 price might put a few buyers off.
If you want the ease of making pizza without the pizza stone and do not want to go through the hassle of opening and closing a lid repeatedly, the accessory will be a perfect investment for you.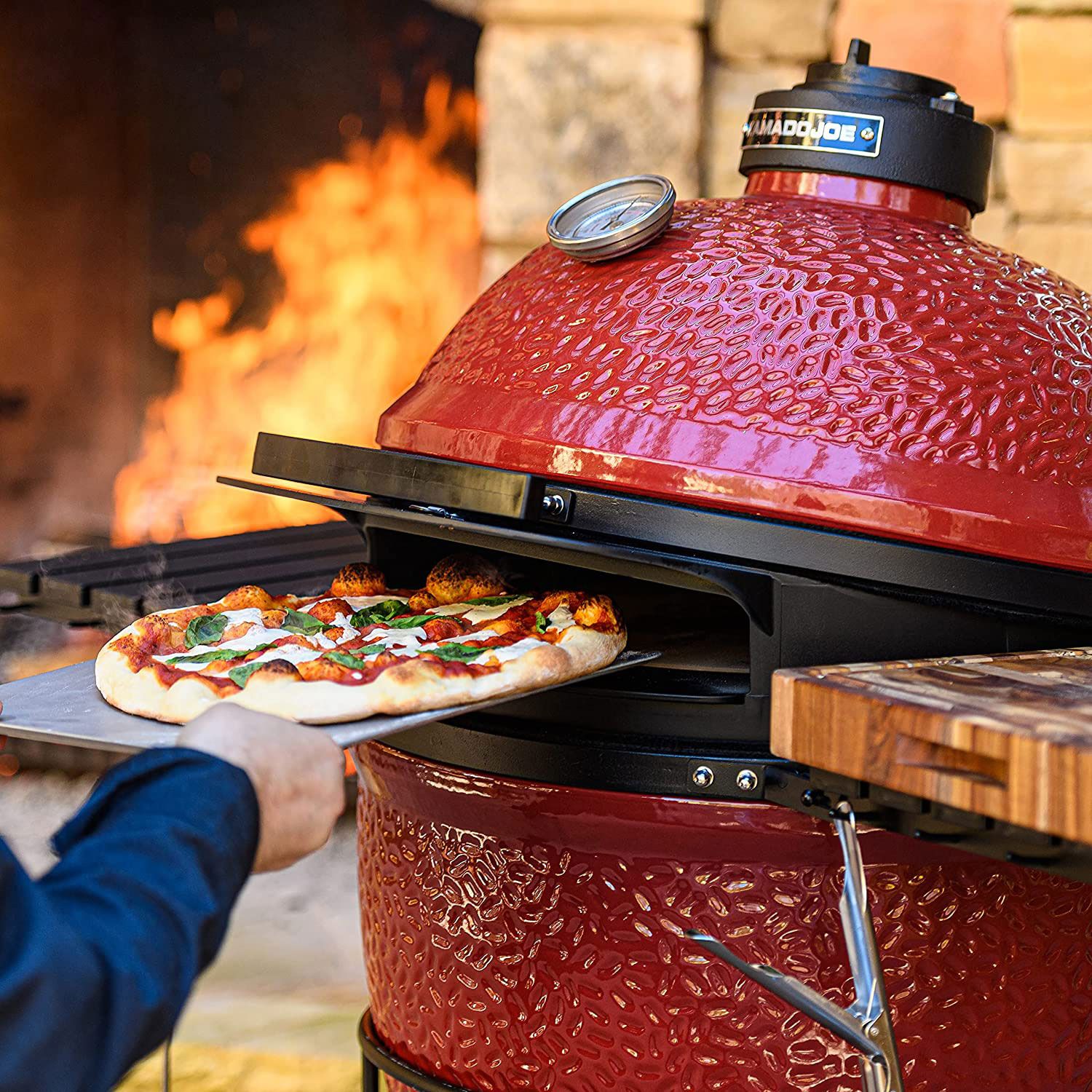 However, if you can work your way around the pizza stone and the deflectors with a couple of spacers, you will be able to make a delicious pizza on the Kamado without this accessory too. We have to warn you that this process will be inconvenient, and you may have to burn a couple of pizzas before getting in right.
Alternatively, you can spend a few hundred dollars more and get a separate pizza oven that can go up to 900F.
At the end of the day, you are paying for convenience and ease of use. If these things are a priority for you, go ahead and get it to make the best pizzas at home.