There's nothing quite like an afternoon spent grilling in your backyard. Imagine how much better it would be with a new grill to show off to your friends, family, and neighbors. Discover how you can make the most of your day grilling with this Kamado Joe Buyers Guide from our team of grilling professionals.
Before buying a kamado grill, it's essential to consider a few features to help you get the best grill for your budget. Our team of expert grillers came up with this buyer's guide, so you know what to look for in a Kamado Joe before you buy. Learn how to find the right Kamado Joe for you with these primary considerations.
What is a Kamado Joe?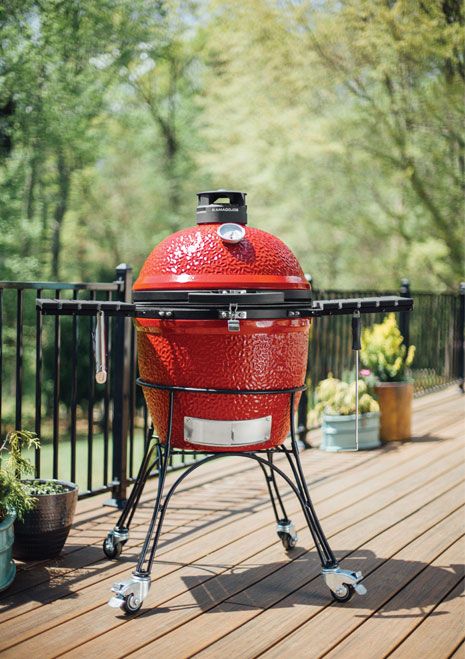 Initially designed in Japan thousands of years ago, Kamado grills were ceramic or clay with minimal features. Used internationally throughout countless early civilizations, people used them primarily to cook rice and various meats for their families. Increasingly popular over the years, these grills are a surefire way to make even dull meals delightful.
The traditional ceramic chamber of a Kamado grill traps heat to give you even distribution when cooking. That way, you can spend less time hovering, flipping, and turning and more time eating with your loved ones. With exceptional heat distribution and circulation, you can roast, smoke, and bake to your heart's content with thermometers and the highest-quality materials. You can make everything from pizza to rice in these ingenious grills. If you're still not convinced that you need a versatile kamado grill, here are a few advantages to mull over.
Fuel efficiency
Most Kamado Joe grills work well with lump wood charcoal to get the best flavor. Tightly sealed for heat retaining purposes, the lid helps the grill's burning power last much longer but with less charcoal than a traditional model.
Cleanup
Do you dread to clean up after a cookout? You're not alone. Traditional charcoal grills are notoriously tricky to clean. Because the coals sit on a grate in a Kamado grill, the ash falls into an easily removable tray, making cleanup a breeze.
Insulated
Sure, you could grab a cheap charcoal grill at the corner store and have a nice, home-grilled meal. But, it will not last, and the insulation is not ideal. The kamado grill's walls not only trap the heat but allow for perfect heat disbursement for even cooking throughout your feast.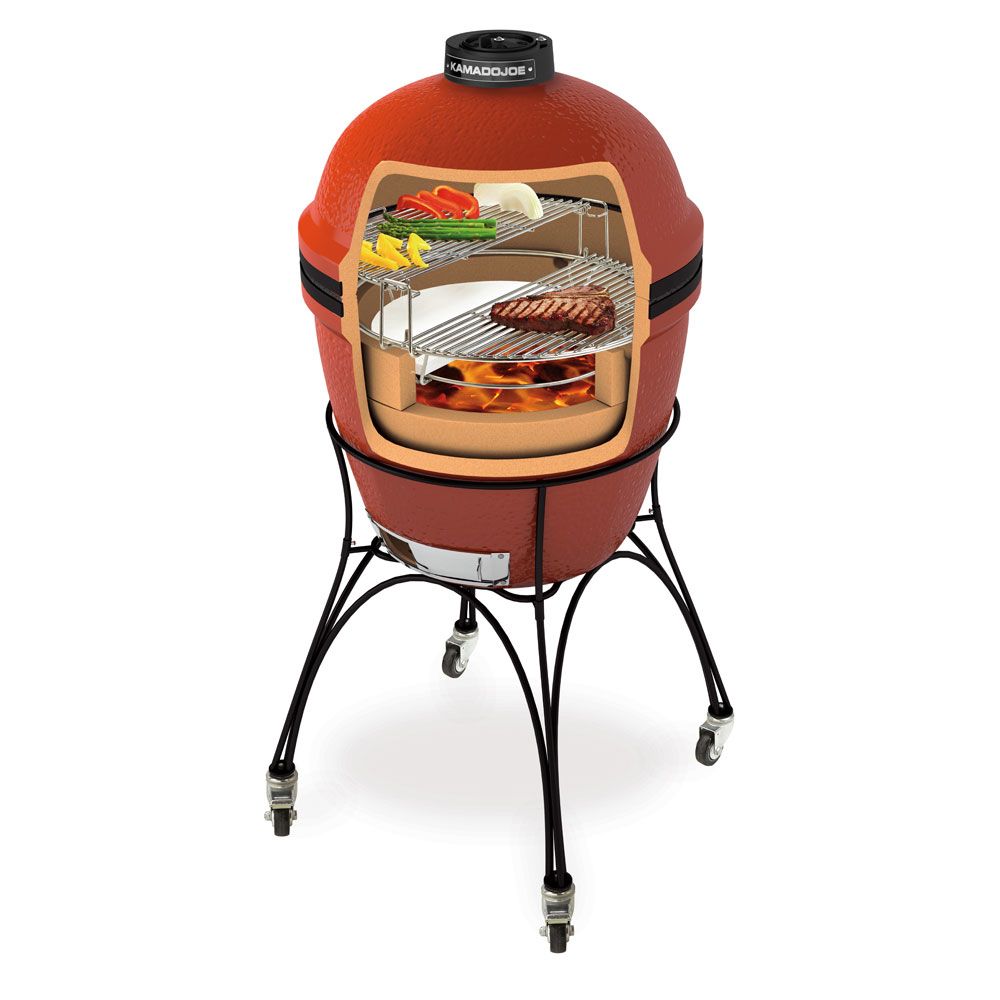 Temperature Regulation
You've seen those grills with a million options before. Although those work well for some people, you want something basic to get the job done. With a Kamado Joe, you get the best method of charcoal grilling with easy temperature regulation. Open and close vents to trap or release heat as you grill, smoke, and bake flavorful dishes.
Kamado Joe Options
Kamado Joe charcoal grills come in three sizes, Jr., Classic, and Big Joe, as well as the Pellet Joe and Kettle Joe. Depending entirely upon your cooking preferences and the types of foods you enjoy grilling, you may prefer one model over the other. Here's what you need to know before deciding on your Kamado Joe.
Big Joe Charcoal Grill
Thick-walled and heat-resistant, the Big Joe model of the Kamado Joe grill comes in three sizes. The Big Joe III is ideal for large families, while Big Joe I and II are perfect for most grilling needs. No matter the size of your gathering, you can lock in moisture with Big Joe to give your guests the juiciest, melt-in-your-mouth meal they've ever tasted. Take advantage of the temperature control to smoke or sear your meal for extra flavor.
Classic Joe Kamado Grill
Wouldn't it be nice if a grill could replace your slow cooker? With the Classic Joe III, you can. Check out the Classic Joe I or II if you're looking for a well-built ceramic grill with enough space to feed your entire family with minimal effort.
Kamado Joe Jr.
Are you looking to pack the most flavor in as little space as possible? The Joe Jr. Kamado Grill has got you covered. Ideal for small backyard spaces, patios, balconies, or tailgating, at 13.5 inches, you can take this grill anywhere. Check out the Joe Jr. with a convenient cast iron stand.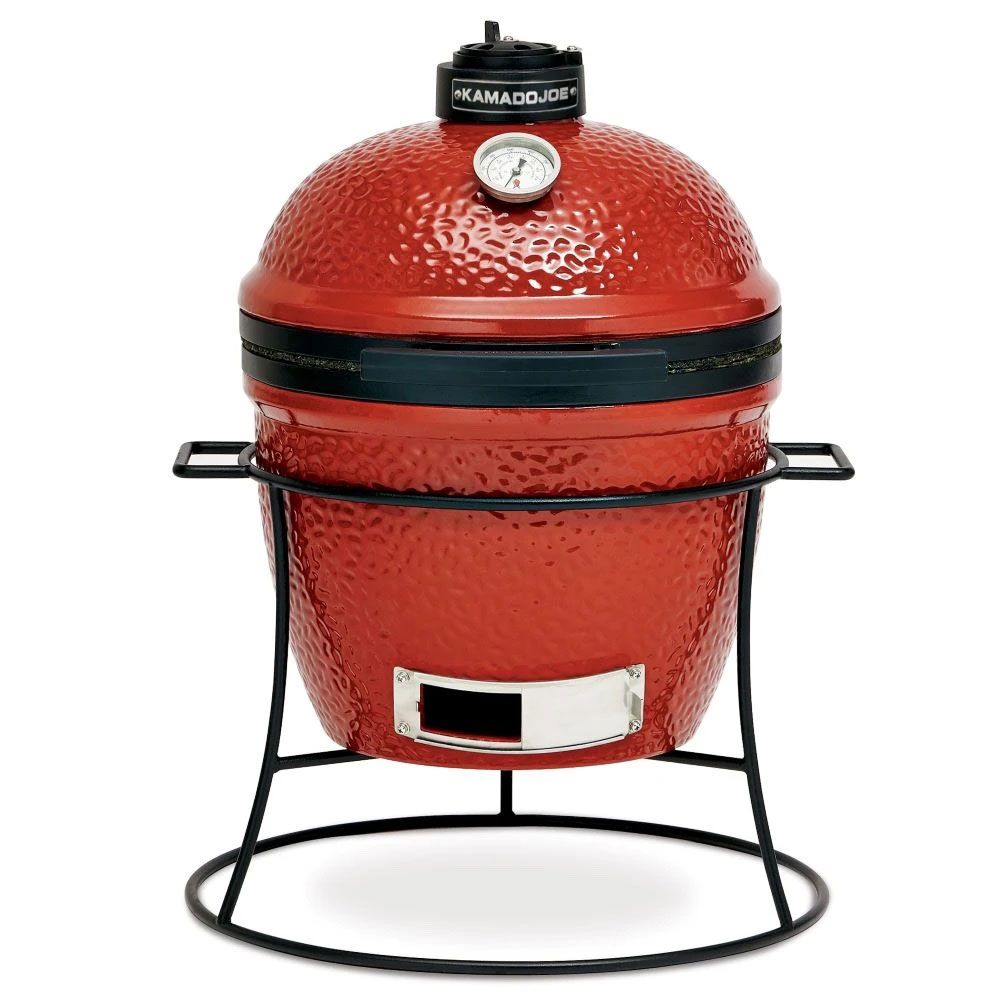 Kettle Joe
Consider the Kettle Joe or the Big Block XL Lump Charcoal Bundle to grill and smoke masterpieces in smaller spaces. Made with fuel efficiency, heat retention, and smoking in mind, the Kettle Joe's mere 22 inches of space includes a 2-tier cooking system appropriately titled Divide & Conquer. If you love a good smoker, you're in luck. The Kettle Joe comes with a SlowRoller Hyperbolic Smoke Chamber insert.
Pellet Joe
The Pellet Joe is like nothing you've tried before. With ceramic's efficiency and even distribution, you won't need as many pellets to do the same work as charcoal. With longer-lasting power than traditional pellet grills, you can burn at smoking temperatures for up to 14 hours.
Kamado Grill Material
Kamado Joe grills are great at retaining and distributing heat, and ceramic distributes heat evenly throughout the chamber to give you the best flavor. You don't need tons of charcoal with a ceramic kamado, and they can last forever if you don't drop them. The only downside is that ceramic grills are on the heavier side, therefore, limiting their location and mobility.
Metal kamados, on the other hand, are a much lighter option. Although they may rust if not correctly cared for, their lightweight feel can give you the flexibility to move them around more easily. While metal is excellent for a quick temperature rise, it doesn't retain heat as long or distribute as evenly as ceramic grills.
Freestanding vs. Built-In
Charcoal and propane grills often come on carts and with wheels. Why should your new Kamado Joe be any different? When it comes to choosing freestanding or built-in kamados, consider the space you'll need to complete your grilling.
From tailgating parties to weekend getaways, a freestanding kamado charcoal grill can go anywhere you'd like. A freestyle model with a cart also works well for venting and cleaning. Some also come with removable stands so that you can take your Kamado Joe just about anywhere.
Built-in kamado grills work well to complete the construction of an outdoor kitchen. A built-in grill is a wonderful way to impress if you regularly entertain in your backyard or patio. Keep in mind the grill is likely to stay put for as long as you live there.
Kamado Grill Quality
Let's face it; kamado grills aren't the cheapest thing you'll purchase this week, and we don't want you to buy the first grill you see. It may feel tempting to buy the best-rated grill or go with the most inexpensive kamado grill on the market, and there are expensive options that aren't worth a lick and cheap kamado grills packed with the highest quality materials. Therefore, we implore you to do your research before taking the leap. After all, quality can make a world of difference regarding longevity for your Kamado Joe, and these days you can never be too careful.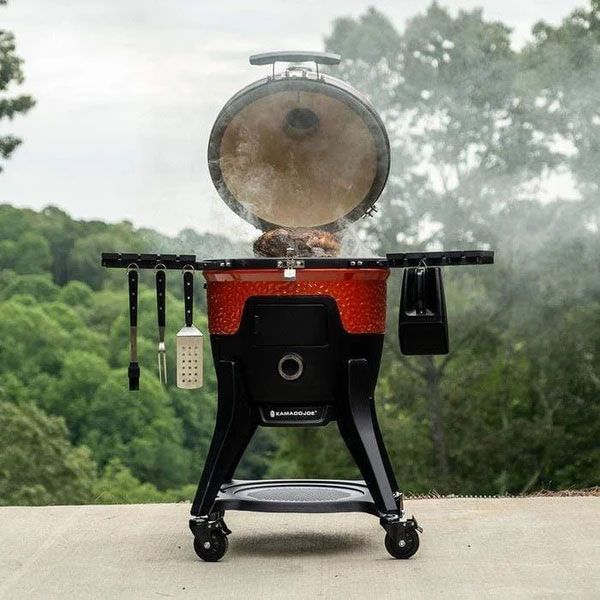 If your new kamado grill doesn't have much information for you to verify, you can do some investigative work. Check the chamber wall thickness and verify the material used on the item's original box. If given the opportunity, verify the accuracy and quality of the thermometers as well. Be sure to inquire about a manufacturer's warranty and keep the receipt and original box for at least six months in an abundance of caution.
Kamado Grill Accessories
Depending on the necessity and the number of people you plan on grilling for, you can change up your grill as much as you'd like. From covers to pizza stones to skillets and spatulas, there are many Kamado Joe accessories for you to choose from. Look into stacking grills, skillets, chimneys, rotisserie baskets, and more. You can also highlight your personality and keep your grill safe from the elements with a well-designed cover.
Online Reviews
If you're not sure if a particular grill is right for you, read their online reviews. Double-check each statement against the other reviewers to determine whether it's a one-off manufacturing mishap or a defective product. Take extra time to compare reviews with your list of required kamado grill features. When in doubt, you can always phone a friend.
Buying Your Grill
Buying a new grill is practically a right of passage. When you have the right grill for your home, entertaining and cooking can be pretty pleasurable. If you've decided on what features are most important to you, start shopping for your new Kamado Joe right away. Go here to get started today.