If you own a kamado grill of any kind, you invariably need storage space for all of the accessories you own. From the JoeTisserie and SloRoller to the DoJoe, there is a range of accessories that should be stored appropriately if you want them to remain in perfect condition. Whether you own a Kamodo Joe or Big Green Egg grill, it can get tiring to take all of your grill accessories from your kitchen to your patio or outdoor living space every time you use the grill.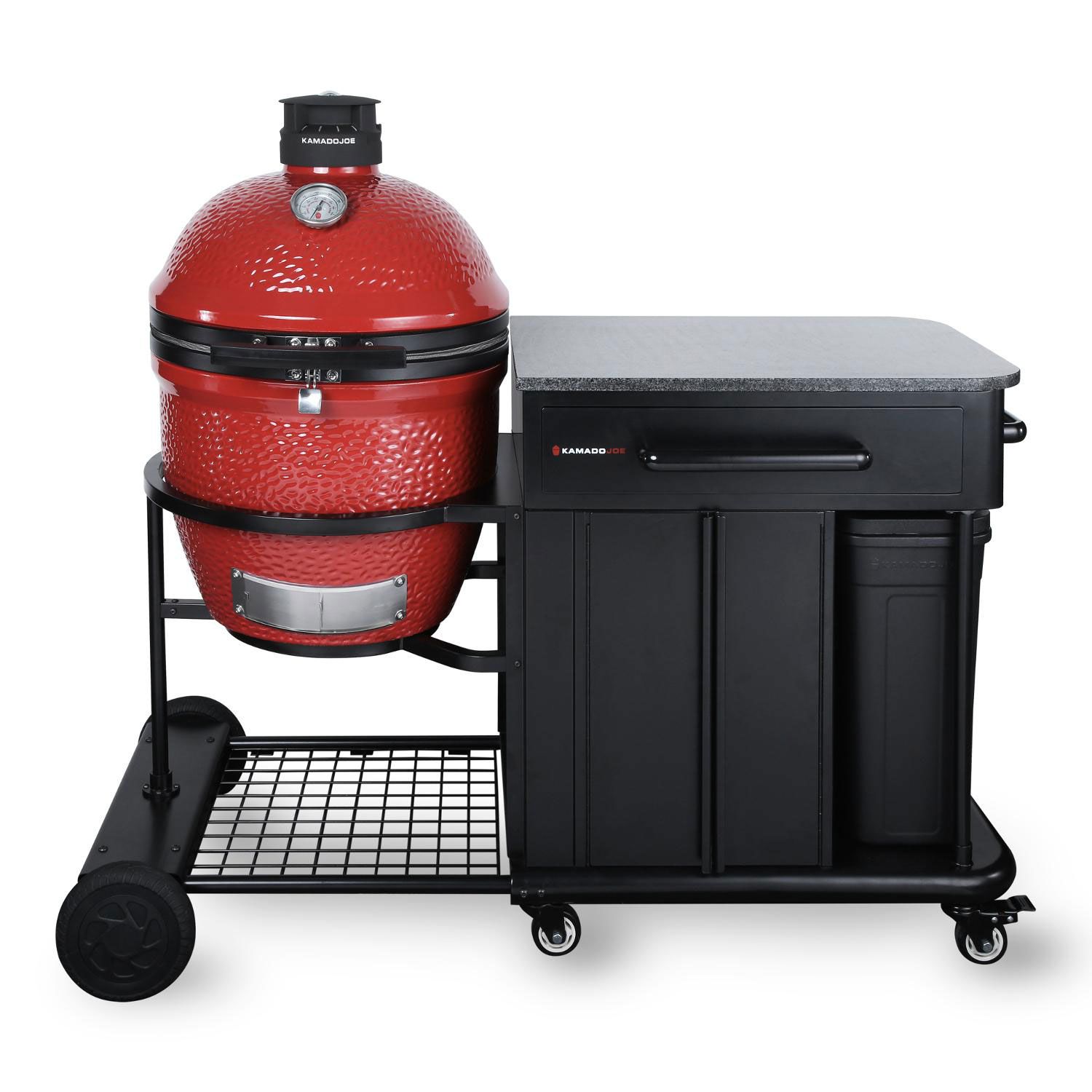 You can solve this problem with accessory storage, of which there are plenty of solutions to select from. With so many options at your disposal, finding the storage solutions that fit your exact needs may be difficult. To that end, the following guide takes an in-depth look at some of the best outdoor storage solutions to pair with your grill.
50-Gallon Storage Bin
Many grilling accessories have ample space requirements. For instance, the Kamado Joe SloRoller and stainless steel charcoal basket accessories can take up a lot of space if you try to store them in your kitchen. While you can use countless storage solutions for your Kamado grilling accessories, the most affordable storage options are basic storage bins, typically made from polyethylene and polypropylene, to stand up well against the elements. The main reason to purchase a storage bin is its affordability.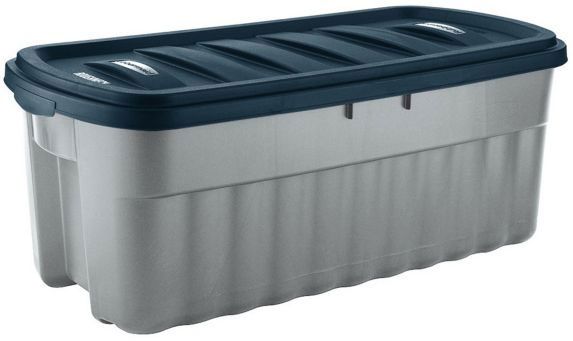 Rubbermaid Roughneck Jumbo Storage Tote
The Rubbermaid Roughneck jumbo storage tote is perfect for storing all of your grilling accessories. At right around 50 gallons, you'll have more than enough storage space for all of your accessories. This particular tote is notable for being outfitted with comfortable handles that allow for easy portability.
Deck box
Consider purchasing a deck box if you want some relatively affordable storage solutions but don't want to sacrifice aesthetics. Deck boxes are functionally similar to storage bins but usually have a much better appearance, perfect for more upscale and luxurious homes. You can find deck boxes in many different sizes. While some deck boxes are as small as 40 gallons, you can find others that offer upwards of 230 gallons of storage space.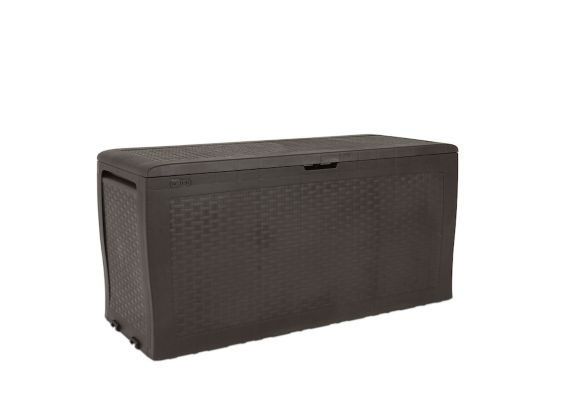 Keter Somoa Storage Deck Box
The Keter Somoa storage deck box is a spacious deck box that provides owners with more than 70 gallons of storage space. It's made from a beautiful resin material that's also maintenance-free.
Along with being maintenance-free, this material is completely UV-resistant and weather-resistant for complete protection. Whether the box is full or empty, transportation is simple due to built-in rollers and handles. If you want to make sure that your kamado grilling accessories are always safe, the box can be locked when it's not in use.
Upright Shed
If you want a storage solution that pairs well with the design of your home, an upright shed may be the perfect addition. This type of shed is the ultimate storage solution that provides you with all of the benefits of a large garden shed without taking up as much space. Keep in mind that upright sheds are large enough for storing all of your grilling accessories as well as some other equipment you need for your lawn. It's easy to add racks and shelving to an upright shed.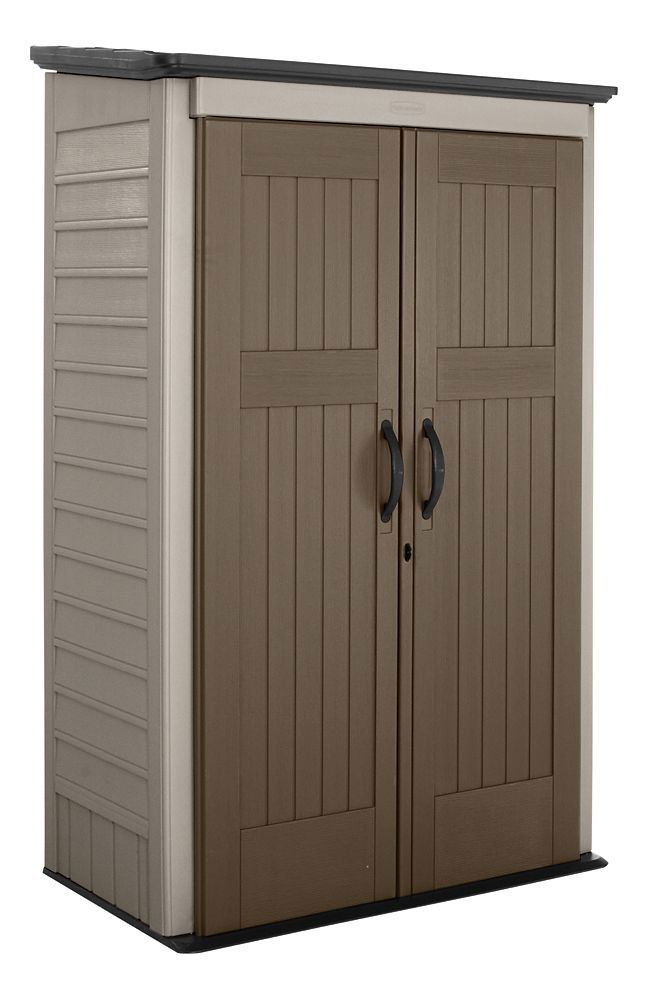 Rubbermaid Big Max Storage Shed
The Rubbermaid Big Max storage shed is a wonderful solution if you want to have easy access to your grilling accessories without sacrificing style. This particular upright shed has a stylish design meant specifically to blend in well with any home or outdoor space. If you place the shed directly against your home, it can even appear to be attached to your home.
You'll find that this shed offers 53 cubic feet of space and is made to be resistant to leaks, weather, and dents. The shed's roof is slanted to ensure that any rain that comes into contact with the roof will be directed away from the building. Like most upright sheds at your disposal, the Big Max allows for the addition of pegboard, accessories, and shelving. Make sure that you install this storage shed on a completely flat surface for the best results.
Wall Rack
Wall racks are ideal storage solutions for anyone who wants to save space when storing their grilling accessories. Remember that wall racks can be easily added to some of the other storage solutions in this guide. For instance, you can have wall racks installed in an upright shed. These racks can be installed in many different locations, which include your kitchen, laundry room, garage, and any spot in your outdoor living space.
Stinson Hook Kit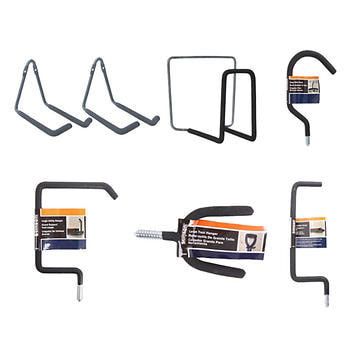 The Stinson Hook Kit comes with 19 distinct pieces that allow you to hang practically any kamado grill accessory. These hooks can be placed on any existing stud or wall. They have been designed specifically to be twice as large as basic vinyl-coated hooks, which means that they can hold an ample amount of weight. The 19 pieces in this kit are separated into a multi-tool hanger, four bicycle hooks, four utility hooks, four ladder hooks, four tool-holder hooks, and two utility or hose hangers.
Kitchen Cart
Kitchen carts are relatively small yet extremely durable storage solutions that are designed to provide homeowners with portable storage. These carts are outfitted with four wheels for simple portability. In most cases, they are designed with stainless steel, which makes them long-lasting.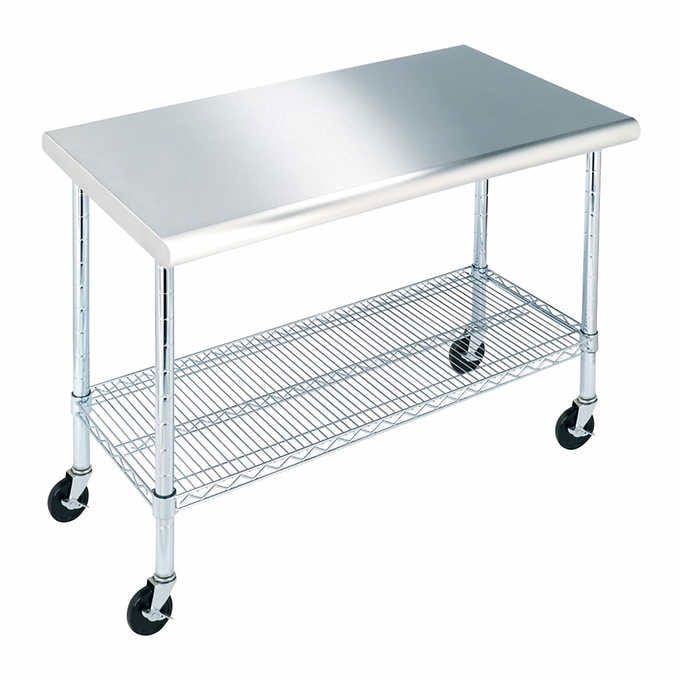 Vancouver Classics Worktable with Wheels
While there are plenty of kitchen carts to select from for your kamado grilling accessories, consider choosing the Vancouver Classics worktable with wheels, which is made from stainless steel and has a 49-inch surface. Along with the durable surface, this worktable is outfitted with a shelf underneath, which can be adjusted to numerous positions. Assembly is simple and straightforward.
Universal Table
A universal table is a type of table designed to fit kamado grills while also providing you with a considerable amount of storage space. This particular option is great if you want to have instant access to your accessories while grilling.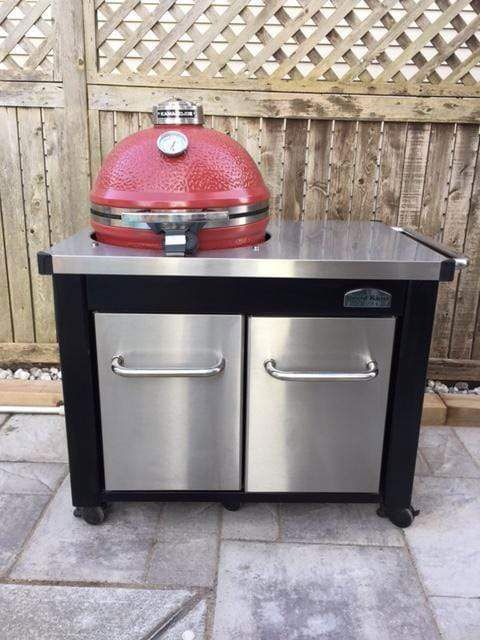 Broil King Keg Cart
The Broil King Keg Cart can fit many different brands of kamado grills, which include Kamado Joe, Broil King Keg, and Big Green Egg grills. This cart is made from stainless steel and is outfitted with sturdy handles and doors. The cart has also been equipped with a convenient pull-out tray that's perfect for your wood chips or charcoal.
Custom Island
If you've built an outdoor living space for your home, a custom island may be the exact storage solution you're looking for. These islands are similar to universal tables but can be customized to meet your specifications, and they also come with much more storage space when compared to universal tables. Nearly all of your kamado grill accessories should be able to fit into a custom island.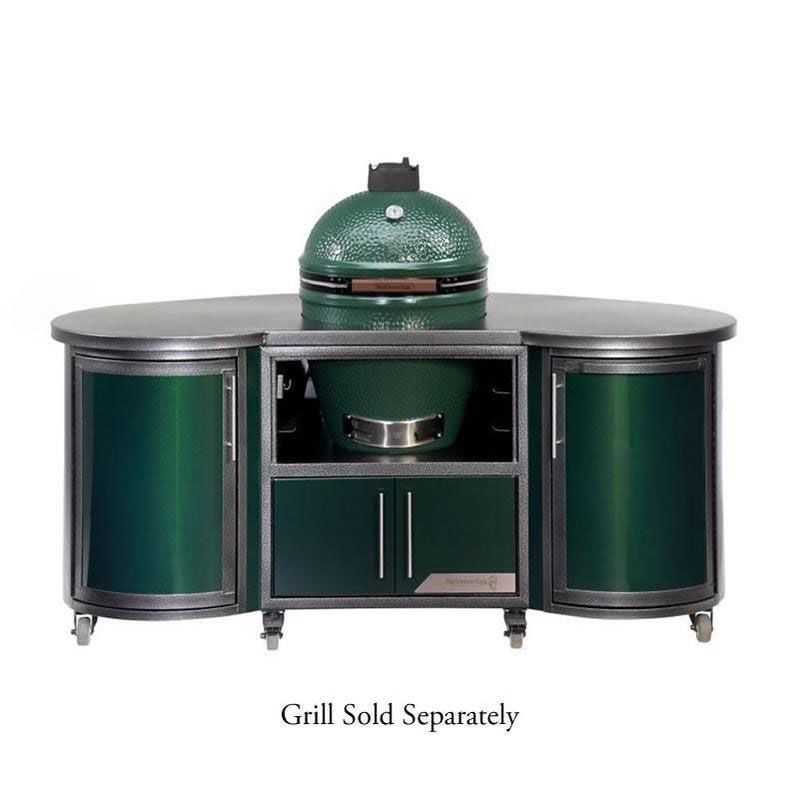 Big Green Egg Cooking Island
The Big Green Egg cooking island offers sizable working space and is made from premium aluminum materials, and the doors are constructed from heavier stainless steel. Keep in mind that this cooking island offers many different types of storage options in one location. You'll benefit from a paper towel rack, a sliding shelf, locking casters, and spacious storage cabinets.
Outdoor Kitchen
This guide's most expensive yet likely best storage solution is an outdoor kitchen, which is the perfect addition to any outdoor living space. These storage solutions are designed to mimic an indoor kitchen but can be installed outdoors because of their weather-resistant materials. Most outdoor kitchens are available as three-piece or four-piece kitchens. The one that you select for your kamado grilling accessories depends on your budget is. While some of these outdoor kitchens come with a fully stainless steel design, others are made with a combination of stainless steel frames and wood grain doors.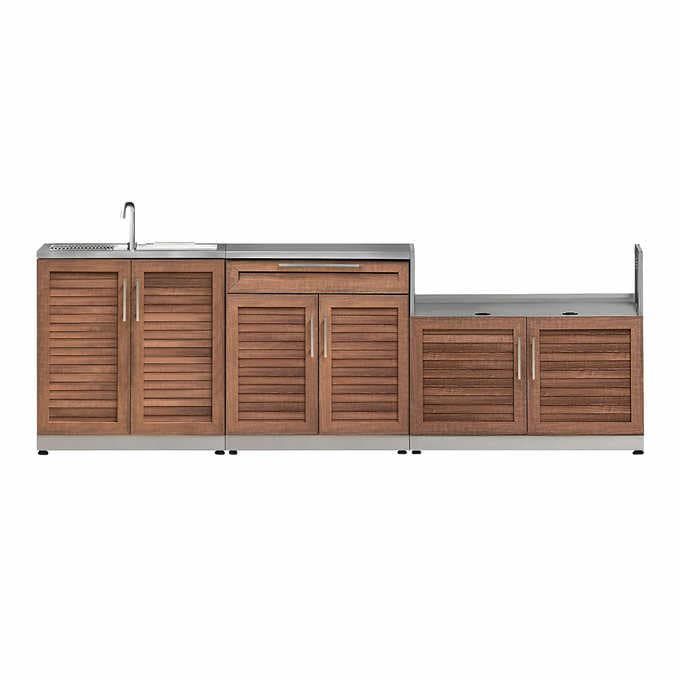 NewAge 4-Piece Outdoor Kitchen
The NewAge 4-piece outdoor kitchen is among the best outdoor kitchens that money can buy. It's comprised of a stainless steel frame, wood grain doors with handles, and height-adjustable levelers that accommodate uneven surfaces. The shelves inside can also be adjusted to account for any grilling accessory you own. This particular outdoor kitchen comes with a stainless steel sink basin as well as a fold-down faucet.
While there is a wide range of fantastic storage solutions that you can purchase for your kamado grill accessories, the options mentioned above are some of the best in the industry. Whether you want an affordable storage solution that won't break your budget or are searching for a storage option that will match the upscale appearance of your home, you should be able to find the accessory storage solution that meets your needs.