The Kamado Joe ceramic grill is perfect for grilling, baking, and roasting savory foods. This Christmas, you can take full advantage of its versatility by lighting it up to cook an amazing dinner for your loved ones. In fact, with so many delicious Christmas dinner ideas, you can easily create a menu that all of your guests will savor. What are some Christmas dinner ideas for main dishes and sides that you can make with your Kamado Joe?
Main Dishes
Prime Rib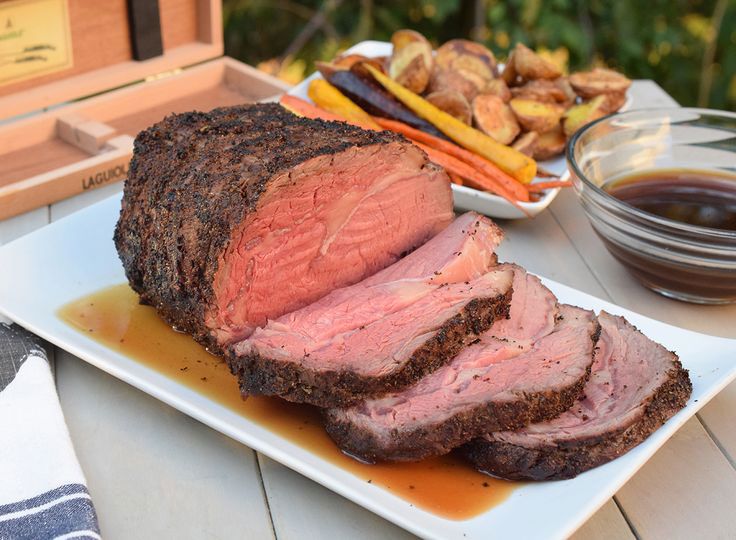 Prime rib is a traditional cut of meat for a holiday dinner, and it will be prepared to perfection when you grill it on your Kamado Joe. Add a garlic herb butter sauce to the grilled meat to finish the dish. Because of the versatility of your grill, you can also try roasting or smoking the prime rib based on your preference. Prepare approximately three-quarters of a pound of bone-in prime rib per person as a rule of thumb. A typical bone-in prime rib will serve two people, so you will need to prepare multiple pieces of meat to feed a larger group.
Ribeye Steak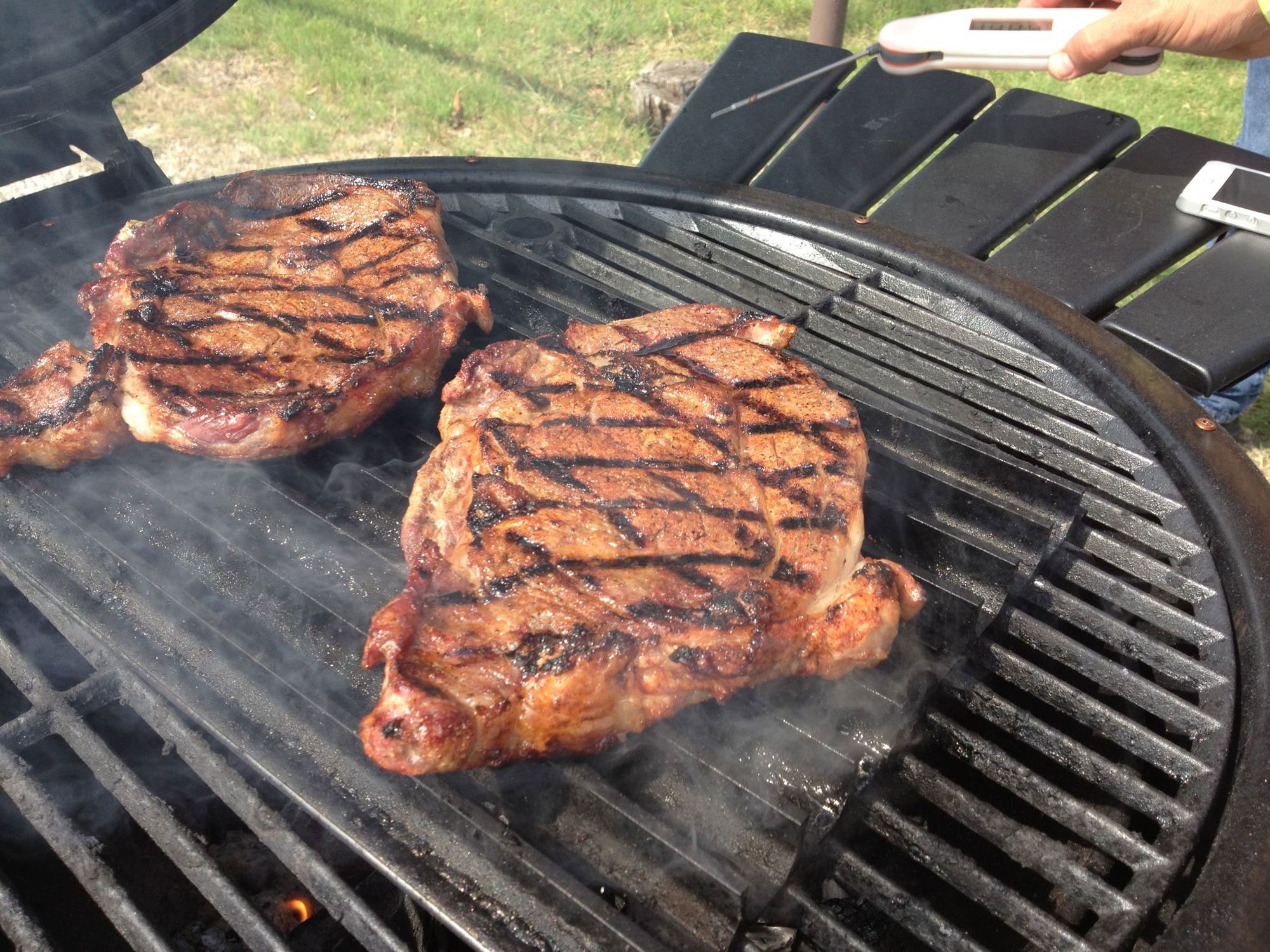 A delicious ribeye steak is a perfect option for the main holiday dish. Consider searing in the juices by cooking both sides of the steak at a high temperature for a few minutes. Then, finish the steak by roasting it at a low temperature until it is cooked according to your preference. Consider rubbing it in black peppercorns before grilling it. It can be served with various steak toppings, or your guests can enjoy the hearty flavor of the meat without a topping. Depending on the thickness and size of the steak, a single ribeye steak may serve between one to two people.
Smoked Ham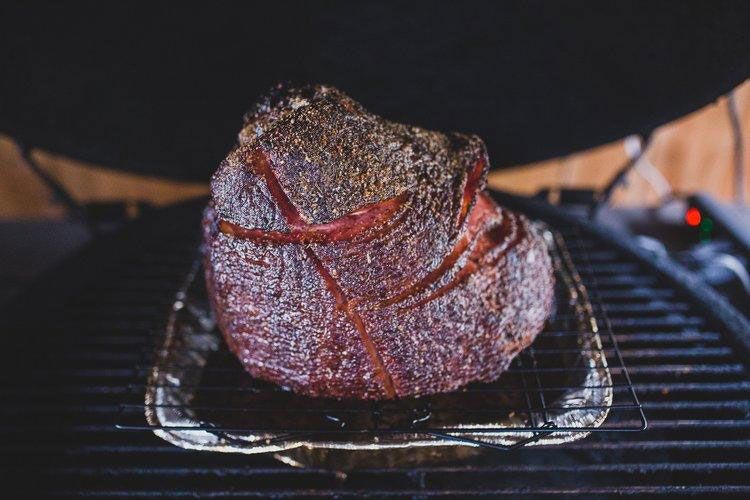 Consider smoking a ham on your grill for a different approach to creating the perfect Christmas dinner. There are a variety of brine recipes that you can use to prepare the meat. The smoking process generally takes a few hours, depending on the size of the ham. A ham may be best served with a pineapple glaze or another tasty option on the skin. This is an excellent idea if you are hosting a large group. A typical 13-pound ham may serve between 22 to 24 people.
Rotisserie Turkey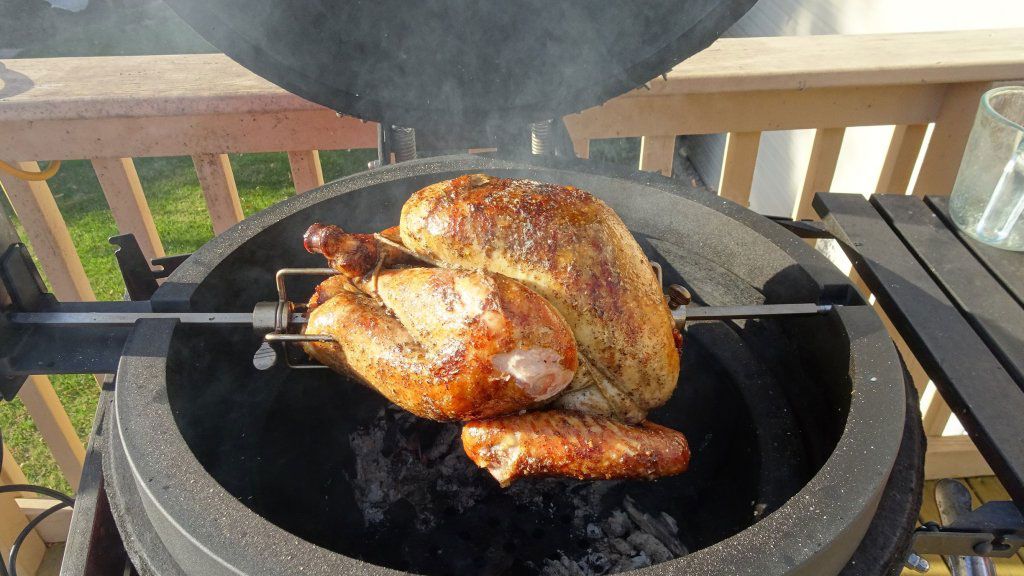 When you think about preparing a turkey dinner, you may envision yourself popping the bird in the oven. However, the Kamado Joe offers you another delicious option. Using the Joetisserie tool, you can prepare rotisserie turkey that is perfectly cooked. By turning the crank, you can ensure even roasting and serve a golden brown turkey, juicy and enjoyed by all. Depending on the size of the turkey, you can expect to feed a group of eight or more with this main dish.
Roasted Chicken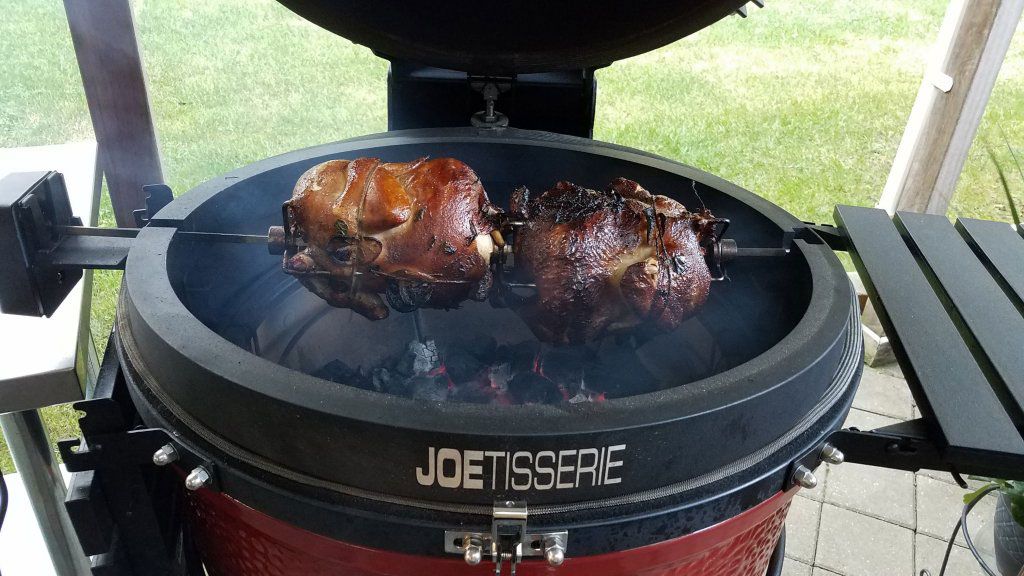 Do you have a smaller gathering in mind? Because of the smaller chickens, they are a great idea for groups of two to five people. You can roast your chicken in the same way as a turkey using the Joetisserie tool. Concerns about serving dry poultry are erased when you roast your chicken in your Kamado Joe grill because you can easily ensure even heating throughout the bird. Expect it to cook much faster than a turkey because of its size.
Roasted Goose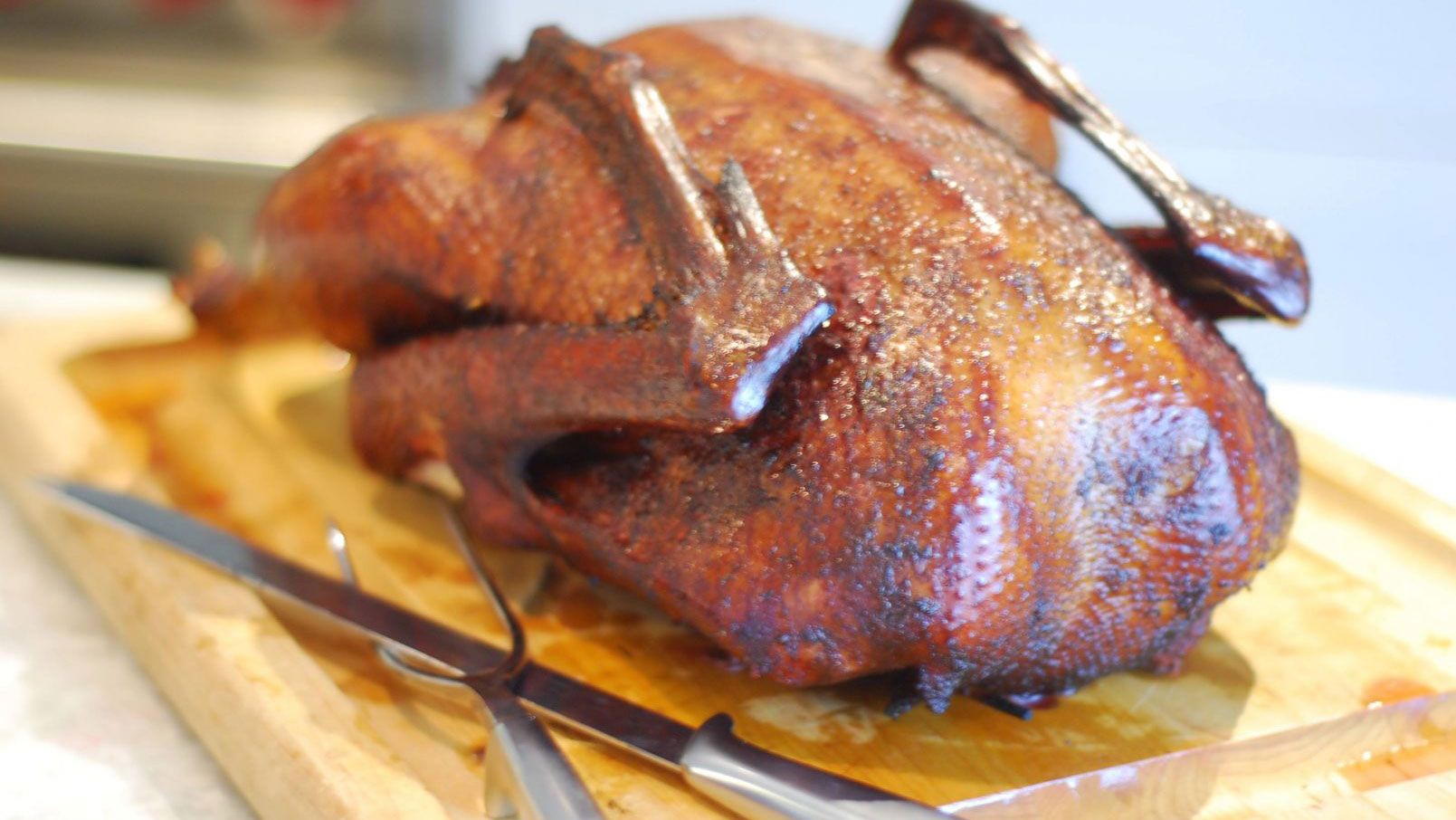 If you are looking for an extra special treat for your guests, consider roasting a goose on the grill. This is a traditional main dish that will undoubtedly please your entire party. Add a savory rub before you place it on the Joetisserie tool, and you will be serving a juicy, flavorful goose within a few hours. An average goose that weighs between 11 and 12 pounds will feed eight adults.
Smoked Lobster Tails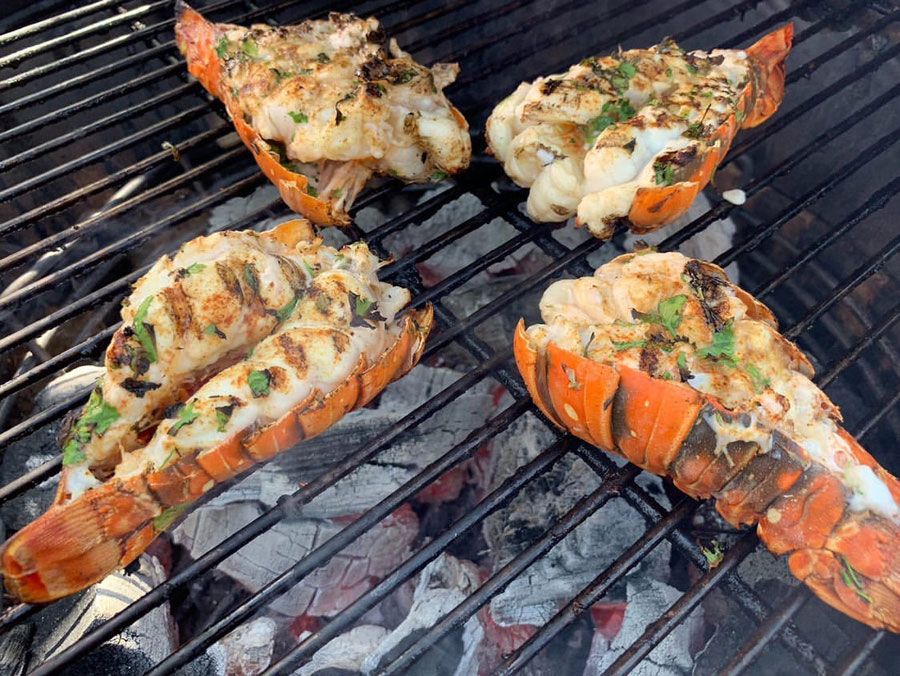 Lobster is a savory seafood dish that is rarely enjoyed throughout the year, so it is the perfect meat to serve for Christmas dinner. By smoking the lobster tails in your Kamado Joe grill, you can bring a unique flavor to the richness of the seafood. At the same time, the smoking process locks in the lobster's natural juices and produces tender meat. Serve lobster tails with a side of butter, lemon, and garlic sauce for dipping. Each lobster tail serves one person.
Smoked Turkey Breast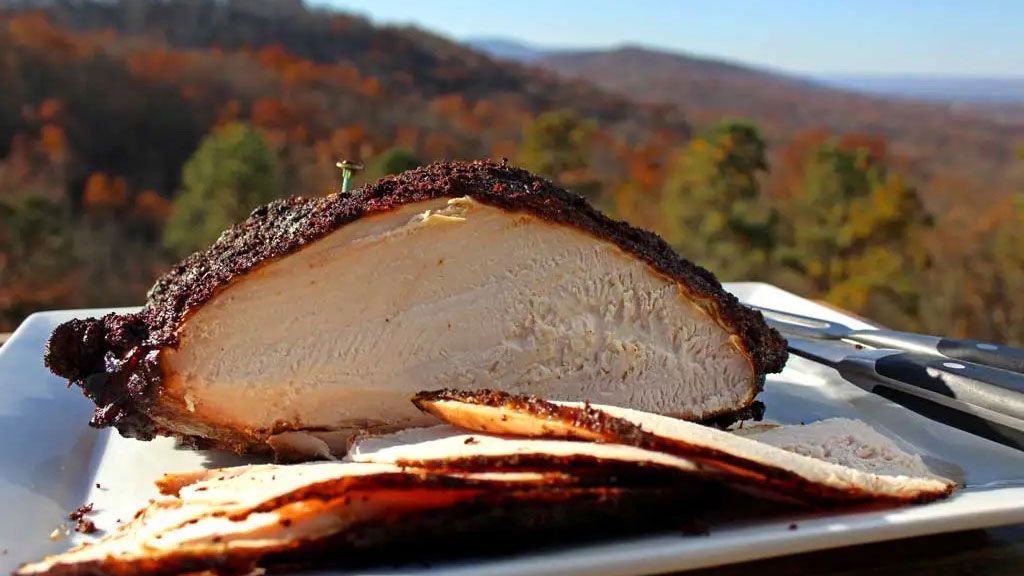 If you want to stay true to the traditional turkey dinner and add your twist, smoked turkey breast is a delicious idea. Choose an apple or pecan wood for your grill to bring a rich flavor into the meat. While smoked turkey is usually juicy and flavorful, you can add a special sauce after cooking or brine before smoking. Consider using flavors like maple and brown sugar, paprika, mustard, and others for a special treat. Each turkey breast cutlet will serve one person.
Smoked Lamb Chops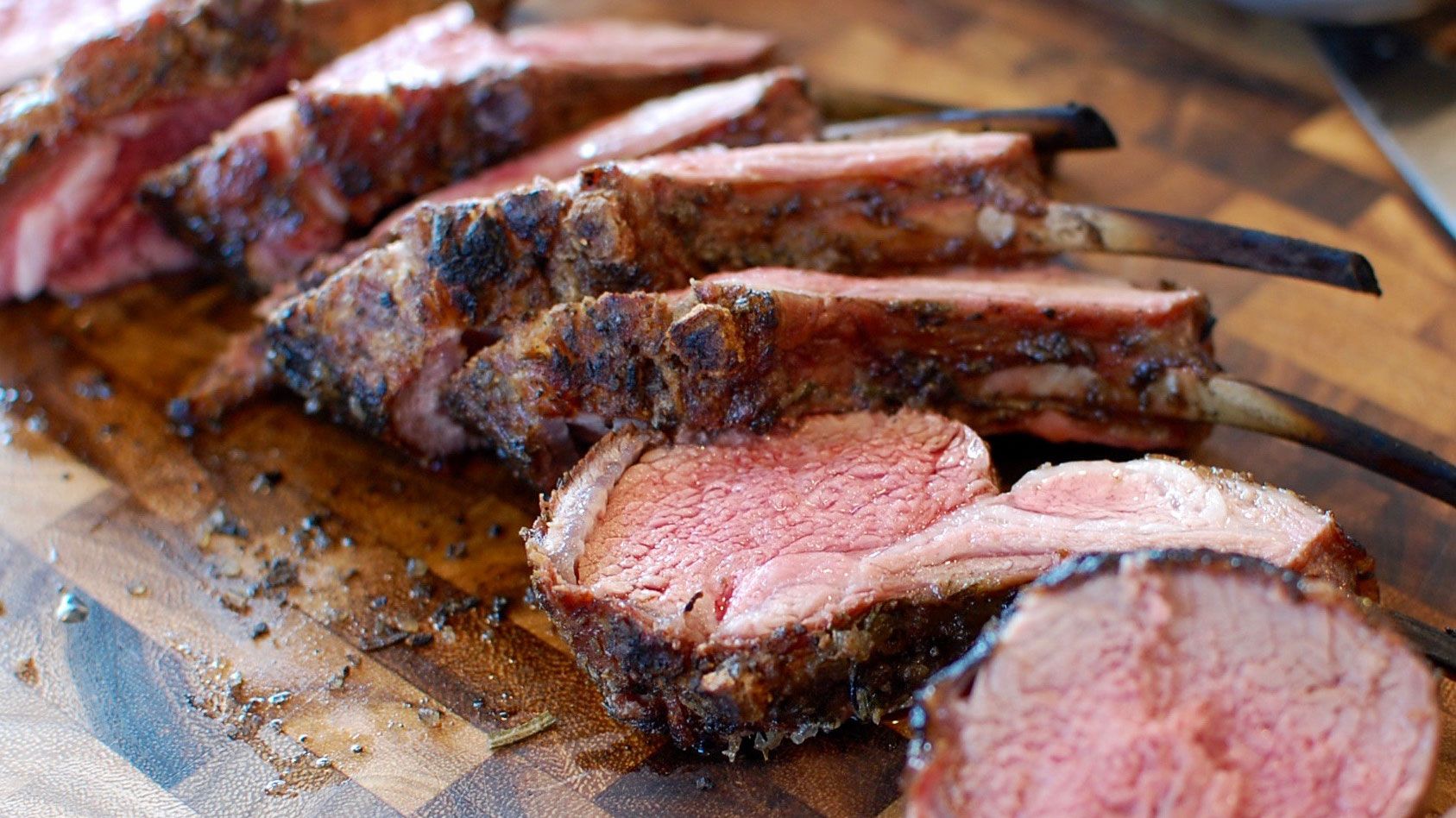 Lamb is not a dish that most people regularly enjoy throughout the year, so it is a wonderful treat for your dinner guests this Christmas. Prepare the perfect spiced rub before smoking the meat using your choice of spices. Add spices to Worcestershire sauce, mustard, or other ingredients for a rub paste. A double-ribbed lamb chop will serve one person. A center-cut lamb loin roast will feed one person per half-pound of meat. As an alternative, consider grilling lamb chops over an open fire.
Smoked Brisket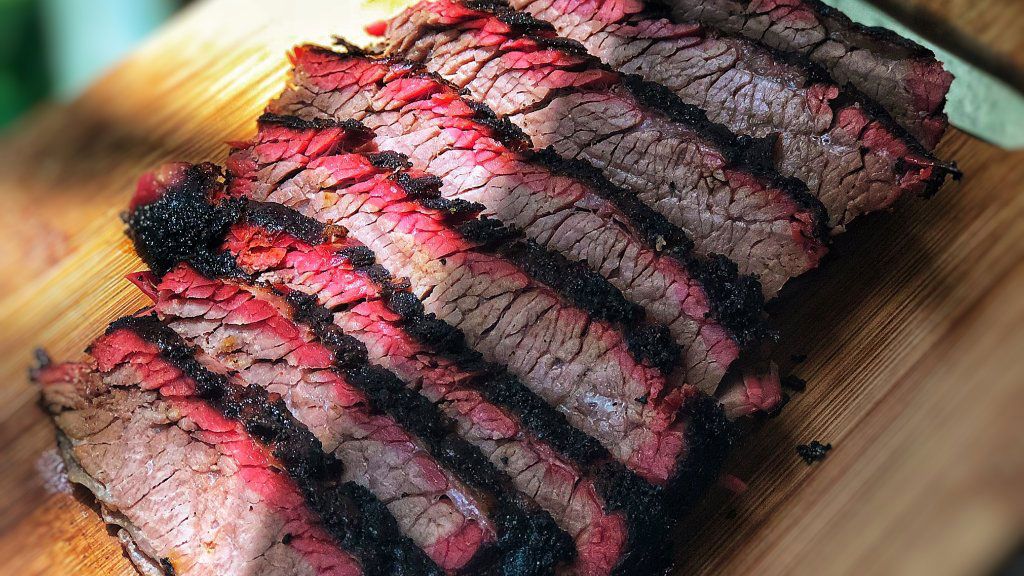 If you are looking for great Christmas dinner ideas for a large gathering, consider smoking a brisket. For the perfect brisket, prepare your choice of brine recipes. When you are ready to smoke your brisket, plan to cook it slowly over several hours. This locks in the meat's natural juices and flavors. While many people enjoy barbecue sauce with their smoked brisket, a vinegar-based sauce or a mustard-based sauce are also great choices. A healthy-sized brisket can efficiently serve 15 people.
Sides
Roasted Mixed Veggies
You can add a beautiful mix of colors to your guests' dinner plates by serving roasted mixed veggies as a side dish. Choose from sweet potatoes, broccoli, Brussel sprouts, zucchini, carrots, potatoes, and parsnips. Place sliced or diced veggies coated in oil in wrapped aluminum foil directly on a hot grill. Turn the wrapped veggies over once during cooking. Depending on the thickness of your cut vegetables, they may be ready to serve after roughly 15 minutes. Choose from a wide range of sauces to complete the dish.
Grilled Asparagus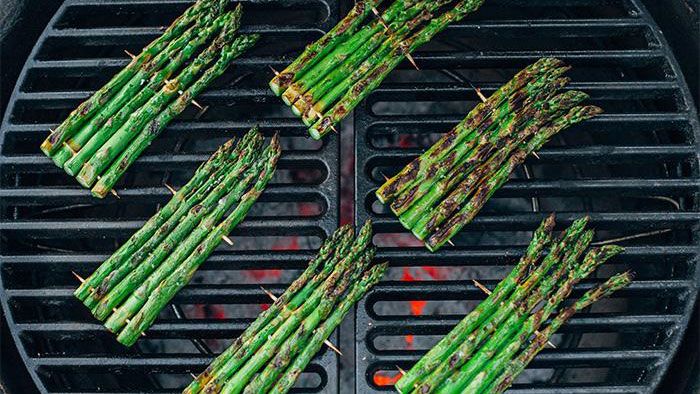 Grilled asparagus will be the perfect accompaniment to any cut of meat. Place them on a hot grill for approximately 10 minutes. After cooking, add your choice of sauces—these range from butter to vinaigrette, pesto, and more. Sliced walnuts are also a delicious topping that beautifully complements the flavor of grilled asparagus.
Grilled Stuffed Mushrooms
If you are looking for a unique way to dress up your dinner plate, consider grilled stuffed mushrooms as a side dish. There are various stuffing recipes that you can use, including bacon and cream cheese, herb breadcrumbs with cheese, and more. To grill the mushrooms, place them on a baking sheet or a piece of aluminum foil over the open fire. If you use larger mushrooms that will not fall between the grate's slats, you may place them directly on the grate over a low flame. Mushrooms cook relatively quickly. Depending on their size, they may only take 10 minutes to cook to perfection.
Smoked Mac and Cheese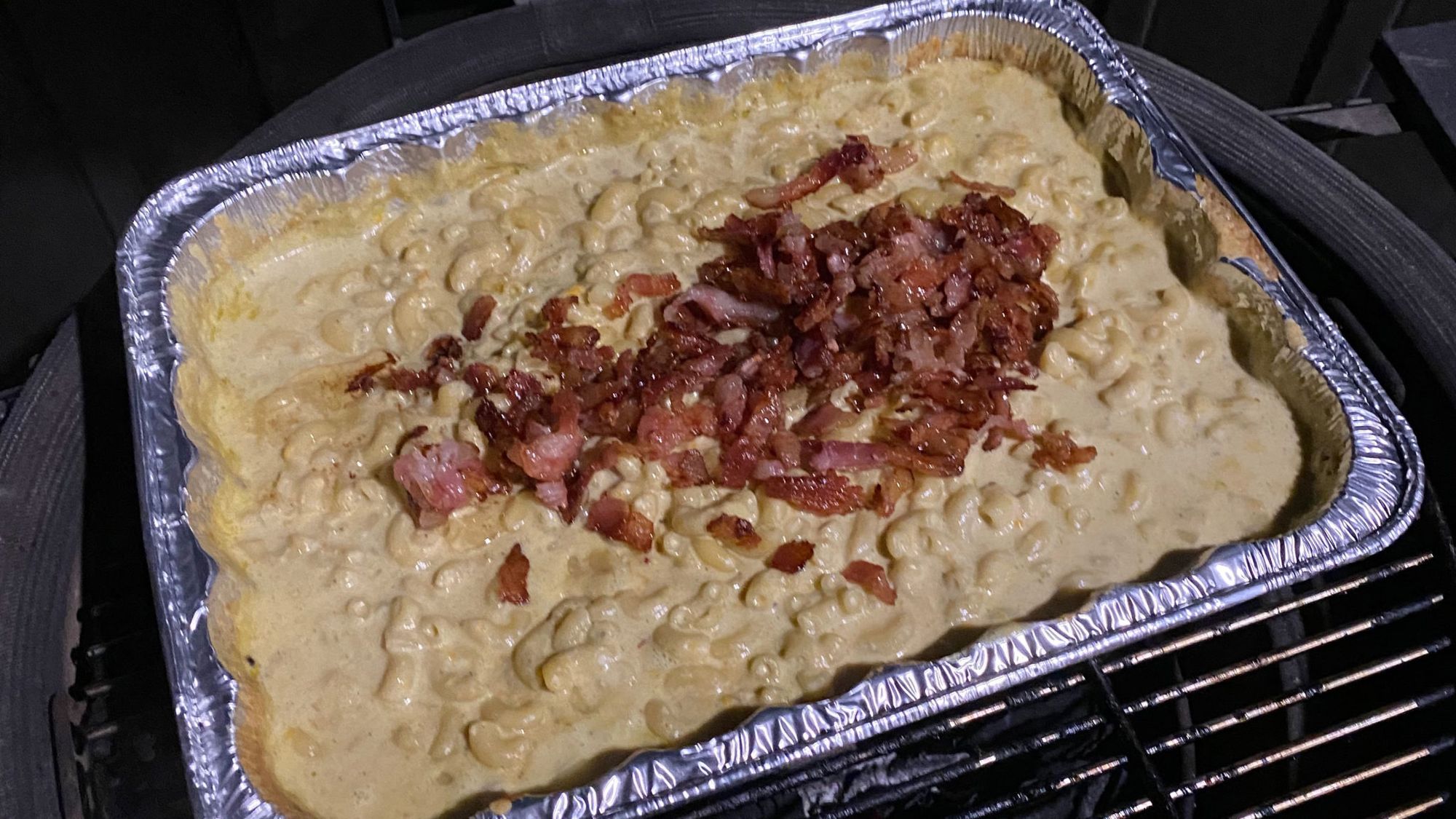 Mac and cheese is a favorite dish for many people, and you can add an extra touch of holiday flair to it by smoking it in your Kamado Joe grill. Choose your preferred mac and cheese recipe, and prepare it according to the instructions. However, rather than baking it in the oven, you can place the foil-covered dish in the smoker. Consider adding cooked bacon crumbles to the recipe before cooking for an extra treat.
Because of the versatility of your Kamado Joe grill, these are only some of the many options that you can consider for your Christmas dinner menu. Are you ready to plan a memorable meal that all of your guests will enjoy?